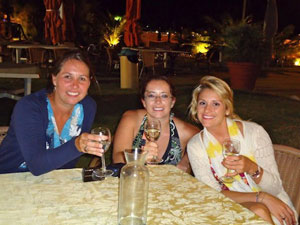 Highlights: The highlight of my experience was that the family I stayed with was absolutely amazing. We hit it off immediately as they treated me like family. When I travelled on the weekends, they made sure I was safe and had contacts if necessary. My family from home (US) came to visit and travel at the end of my stay. They were able to meet my host family, and my host family was beyond welcoming to them. It was so exciting to see both of my families meet each other. A nice thing is that we have remained in contact, and we have made plans to meet up again in the near future. The highlight of teaching was that not only did the family learn from me, but I learned from them. I was able to learn Italian as I taught English with GeoVisions, and we had a chance to learn about each other's cultures.
Morning: I lived in Civitanova Marche, which is located south of Ancona on the sea. The family I lived with had a home a short driving distance from the beach. Every morning I would get up around 8 or 8:30 am, and I would have breakfast with the host mother. She would go off to work for the early part of the day, and I would stay at the home where I was able to lounge by the pool, read, and put together English lessons for the afternoon. The host family's son would be hanging out, and there were times where we would hang out around the house playing board games, tennis, or swim. There were some times where we would go to the beach in the late morning, shopping, or get to visit the host family's business. Also, we would visit my host family's parents in the nearby town for lunch.
Afternoon: In the afternoon, after lunch, I would sit down with the host family's boy and we would have English lessons. I tried to be creative with activities, so we would use things around the house for I Spy and we would play games. I also incorporated youtube videos and other internet sites to support the boy's learning. After our teaching lesson, I would be able to spend the rest of the afternoon doing things I was interested in. I would make plans with friends I have made, make travel plans for the weekend, and go places with the family.
Evening: In the evening, I would have a meal at home with the family or sometimes we would visit their friends' homes for dinner. My host family's friends were absolutely amazing. They were very welcoming, and they were happy to include me in their festivities. Some evenings I would stay at home, where others I would go out to town with friends in the area. My host family knew other families in the area who also had English speaking tutors staying with them. We were able to get together a few times a week where we were able to grab dinner, walk through the town, and check out local sites.