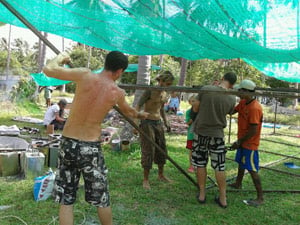 Morning: Most mornings started with breakfast at the New Heaven Diving School where you enjoyed the low tide and each morning were amazed over how beautiful the island of Koh Tao is. You got your breakfast from the coffee shop across the street, went to the 7-Eleven or got a real thai breakfast from one of the motorbike stalls nearby.
That day's work was decided and a schedule was made for that day. The schedule was based on the weather conditions and sometimes needed to be changed, but there was always things to do. Normally you started with a walk along the beach after breakfast and took the chance to clean it up at the same time.
Afternoon: There wasn't a day like the other. Same days we were out cleaning beaches, or doing snorkeling cleaning in shallow waters (often from the beaches), other days we were making beach- and road signs, handed out battery bins, making EM composts. Other days we worked with the divers at one of the land slides or making structures for the artificial reefs, or tying together buoylines. One day we helped the local community with cleaning the roads. Some days we went out with the divers and snorkeled in the shallow waters checking for trash and doing coral inventory.
We also went to the garden where a special kind of grass, called the King's grass; is grown. This grass is really strong and gets a very deep root system. When the grass has grown stronger they will be planted at the different land slide sites to help bind the earth and mud together to help prevent more slides.
Evening: The day normally ended with a fruit shake, juice or such at the local beach bar before going home for a shower and a change of clothes before dinner. There was always someone to meet up for dinner. A couple of times we went to the Babaloo Bar and watched the fire show, just relaxing. You were normally home pretty early and just relaxed at the Tropicana resort bungalow, before going to bed ready for a new morning to come.
Highlights: There were a lot of highlights on this trip. One was learning more about that what you do on land effects the ocean and vice versa, but also working with amazing people who had such a passion for the conservation of both land and ocean. Learning new things such as mixing concrete, EM composts etc.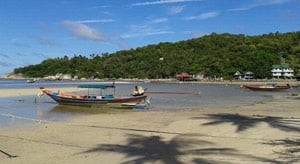 Seeing how "save Koh Tao"-community works together with dive schools like New Heaven Diving School to really make a change for the better and ensure that this little island still will be paradise for future generations.
Of course also being able to be outside from morning til evening was great.
And then we have the weather, the people, new friends and the whole experience. When volunteering you get to see all the wonderful things you'll never see as a tourist and also experience things you normally don't do as a regular tourist. You also get the opportunity to get involved in the culture and community, and get a greater understanding for the same.
This trip was the best 4 weeks holiday I've ever had, and it has made me want to do more of these kind of travels. I've already a new trip planned, this time for three months combining marine science studies with marine conservation work. This trip is also arranged with the help of Kaya Volunteer.