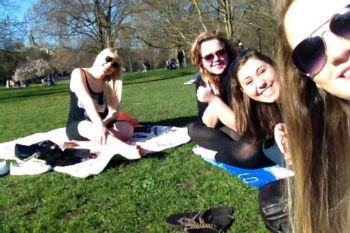 Describe your program socially and academically.
Courtney: This program was a really good program. It was very rigorous academically, which made my classes seem easier when I went back home. The learning was placed mostly on the student, and not on busy work you get from the professor.
Everyone in the program was really nice, and ready to make friends, which was great. I liked that they had get-togethers for everyone in the program, and how we did fun little activities together. I liked that they didn't leave us to fend for ourselves right away on the tube, and that they were so friendly, and willing to answer our questions.
How has this experience impacted your future? (Personally, professionally, academically, etc)
Courtney: I think that this has impacted my future a lot. Academically, the studies in London were so rigorous, that I feel extremely as ease in all of my classes now. Some of that I think has to do with that I took my major classes while I was abroad, and now my classes here seem so much easier.
Professionally, I think that going abroad has shown initiative on my part, and shows that I'm not afraid to take risks, and go somewhere, or do something that I've never done before.
Personally, this trip changed my life. I now have a hunger for traveling even more than I did before, and can't wait to get started expanding my horizons and learning about different cultures.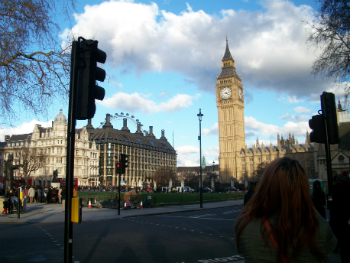 What was the best place you visited outside of your home-base city?
Courtney: My favorite place that I visited was Dublin, Ireland. It was incredible. Everyone was so nice. I went there with my family, and the waitresses in restaurants were telling us places to go, and people were telling my cousin happy birthday. Everyone there was so welcoming, it just created an atmosphere that you wanted to be in.
The city was amazing too. I loved being able to walk through the castle in the city, and touring the Guinness factory was a lot of fun too! Being able to walk through the city, and see the history before you eyes was really cool. Ireland was amazing, and I definitely recommend going!