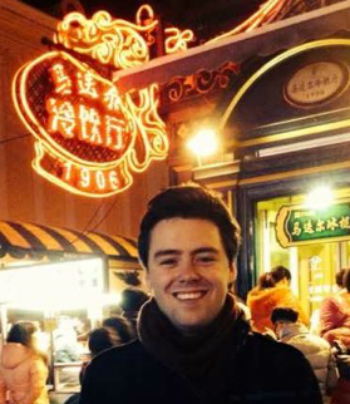 Describe your most meaningful souvenir and why you love it.
Connor: My most meaningful souvenir is the Christmas gift that one of my best friends from Harbin gave to me. It's a tumbler with the Harbin Institute of Technology's logo on it, and blueprints of Harbin's most famous landmarks in the background. I love the tumbler for its design: it perfectly captures H.I.T.'s personality, and it reminds me of Harbin every time I use it.
But what makes me love the tumbler most is that my friend sent it to me months after I had left China for Christmas, 2015. It goes to show that the friendships that you can make studying with a program like C.E.T. Harbin are deep and meaningful — all you have to do is take advantage of the opportunity to live with native students and integrate into the host university's campus life.
What is one piece of advice you'd give future students traveling with your program?
Connor: The most important thing to remember if you are going to China with C.E.T. Harbin is to jump right into the language pledge. It's such a unique experience — especially for an American — to go months without speaking your native language. It's hard no matter what, but the longer you wait after taking the language pledge to begin speaking, the harder it is going to be. So just allow yourself to be embarrassed and have fun with it from the very first day.
Take full advantage of your time with C.E.T. Harbin: the version of Mandarin that they speak in Harbin is the most standard, and the locals are warm and welcoming. I can't remember a single time anybody in Harbin did anything other than smile and patiently help me whenever I spoke Mandarin.
Describe your program socially and academically.
Connor: C.E.T. Harbin perfectly integrates social and academic life. Each of us had a Chinese roommate, so there were a total of 40 students living together. It's even better than a homestay — you get the benefits of full language immersion but can remain independent. C.E.T. did a great job of selecting roommates that were as excited to help as we were excited to learn Mandarin.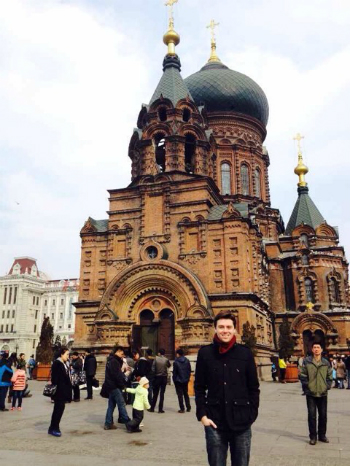 We had hours of homework each night and a full set of class each day. Although it was challenging, the teachers and administrators were all personable and understanding.
I was most nervous about my one-on-one class — how annoyed would my teacher get if I couldn't keep up and there wasn't anybody else to help me out? But in the end, my one-on-one teacher was one of the most patient and effective educators that I have ever met.
Describe your favorite must-have food that you tried abroad.
Connor: I had dongbeicai — the heavy, regional cuisine — every day for a year and I still didn't get enough. Other than dongbeicai, there were some great Russian restaurants (the bakeries in Harbin are fantastic). But what I miss most is malatang, a spicy soup filled with vegetables and meats in a simmering broth.
There was a fantastic malatang restaurant right outside of my school's gate. It was an unassuming hole-in-the-wall kind of place, but it was so good. I would walk in, grab a bowl and fill it with all kinds of meats and vegetables.
I would take it to the chef, who would boil everything in a delicious mix of spices, herbs and juices. Best of all, this delicious meal would only cost about $1.50.There are plenty of dongbeicai places where I live, but I still haven't found a single place that sells malatang.