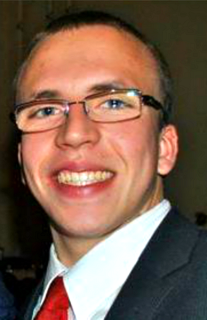 Why did you pick this program?
Robert: I chose the FIE London/Amman program because it was both applicable to my interests as well as unique. As an international relations major, learning about conflict resolution is expected. However, I wanted to experience it firsthand. Additionally, this was the only program where I could travel to the Middle East without knowing Arabic beforehand. Admittedly, this was my first time out of the country, and I believed this program would not be too rough on a 'novice traveler'.
Another aspect which guided my choice is that this trip was considered a Drexel-sponsored program. This means that there is an existing partnership between Drexel and FIE. So, this came with some added benefits that I was able to utilize. In hindsight, I also picked this trip because I have never had a more action-packed educational experience is such a short time.
What do you tell your friends who are thinking about going abroad?
Robert: DO IT! Once you travel for the first time, you get the travel 'bug'. In addition to this program, I traveled to Panama, Germany, and Czech Republic. In fact, I was asked by the University's Study Abroad Office to speak several times on many panels to explain this very question. Many people worry about the cost, but there are many scholarships available.
Also, look for university-sponsored program which have a lower cost and added benefits. Safety is another big point. While one must realize that they are no longer in their home country, there is no reason to feel threatened if one reciprocates friendliness. Overall, the ability to experience a different worldview is never wasted. It will not go unnoticed by friends, colleagues, and future employers. Plus, you get to tell them some pretty cool stories.
What's your favorite story to tell about your time abroad?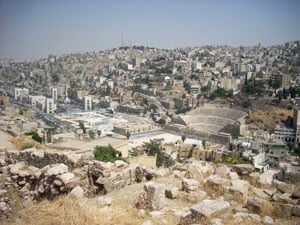 Robert: My favorite story happened in Amman. So, for somewhat of a challenge, I went on this program knowing no Arabic. It wasn't a requirement for the program, but it still helps to know it. Anyway, the primary transportation between my homestay and the classroom was by taxi. Not only was there a language barrier, taxi drivers don't know places by addresses but by landmarks. It took me a while to get where I was going, especially on the first day. Not only did I learn the streets of Amman, but also I improved my speaking of Arabic.
One time I got a bad taxi driver, he really didn't talk or didn't seem friendly. This was about halfway through the program, so I knew how to get around. So, for context, the average cost from my homestay to the class was about 2.14 dinar (~3 USD). We arrive at the AMIDEAST building and the driver tells me that the meter reads right to left, and tried to make pay 4.12 dinar instead of the actual price of 2.14 dinar.
What made this experience unique and special?
Robert: This experience was unique and special because of how personal it was. Here are some examples. Dr. Arthur, in London, was able to name drop key people in the Northern Ireland conflict. I was privileged to speak with Lord Alderdice, the former speaker of the Northern Ireland Assembly.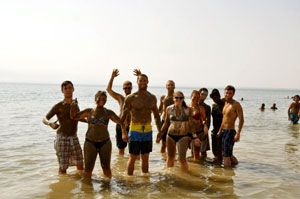 I was invited to dine with the Duke of Kent and HRH Prince Hassan bin Talal of Jordan to learn about the Anglo-Jordanian Society. I got to stand in the prison cell where Bobby Sands died in the infamous hunger strikes of Long Kesh prison. I was privileged to listen to past prime ministers of Jordan talk about the start of the country, and I got to experience what a Palestinian refugee camp was like. Truly amazing!
What is one piece of advice you'd give to someone going on your program?
Robert: Have fun and do it all. You can never go back and do it quite the same way again. You will leave with memories that will last a lifetime.