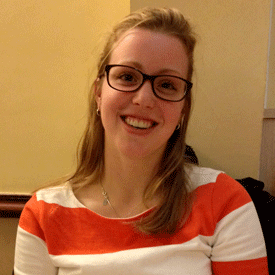 Why did you pick this program?
Amanda: I chose this program because it catered to both of my interests in Business and International Relations. The classes looked interesting and the location was hard to beat. Paris offers so many opportunities for exploration, whether your interest lies in art, history, gastronomy, or something else. Additionally, I have an Aunt who currently lives in the city and it was a wonderful opportunity to get to see her throughout the semester.
What do you tell your friends who are thinking about going abroad?
Amanda: I tell them to do it, to take a leap of faith. It's not easy, but then again nothing will expand your knowledge, your experience, your confidence quite like going abroad. By taking the chance, you're allowing yourself to grow and push your own personal boundaries. It challenges you and you learn more about yourself as well as another culture. I always tell them to go, because what do you have to lose?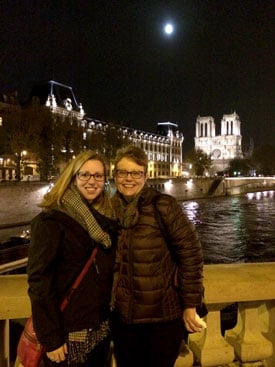 What was the hardest part about going abroad?
Amanda: The hardest part of going abroad is the preparation, including planning and packing. This can be especially difficult if you need to procure a visa or work with any government body. Packing can also be quite difficult because you have to fit your whole life into a suitcase under 50 pounds.
I know I had a difficult time deciding what to bring, though IES provided information from different alumnus on packing tips. When in a different country, I know the language barrier can be difficult too, but after a time you will become more comfortable in communicating.
What's your favorite story to tell about your time abroad?
Amanda: One of my favorite times was our Thanksgiving dinner, hosted by IES. The dinner was in a restaurant not far from the school and while it was not a traditional Thanksgiving dinner, we all found comfort in being surrounded by friends and our new family abroad. It was a night filled with good food, lively conversation, and delicious wine. Afterwards, as a half birthday-half Thanksgiving celebration, we went Salsa dancing and had a blast. It was one of the best times of the semester.
What is one piece of advice you'd give to someone going on your program?
Amanda: Others going on the program should plan ahead, research all that you want to do on your time abroad. I know it sounds silly, or perhaps cliché, but the semester really does fly by quickly. By making a list of things to do/see, you will be more likely to accomplish it all and not leave it all to the last minute like I did. That way, you will likely leave with few regrets and can plan to do things periodically throughout the semester.