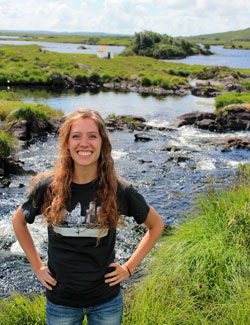 Why did you decide to go abroad with your provider?
Sarah: I decided to go abroad with IFSA-Butler because of their connection to the National University of Ireland, Galway.
I knew that this was a school with a good reputation, and the classes I was able to take would fulfill requirements for my anthropology minor. I reached out to several providers, and IFSA-Butler was the one that consistently and rapidly responded.
What was the best place you visited outside of your home-base city?
Sarah: The best place I visited outside of Galway was the Cliffs of Moher. It was an absolutely gorgeous day, sunny and clear. To walk all the way to the end of the cliff was about 7 miles, so my group and I spent the entire day roaming about the land.
It was amazing to see this landscape; there is nothing like it in the United States. The sides of the cliffs drop straight down hundreds of feet into the water.
Where was your best photo taken and what was it of?
Sarah: It's nearly impossible for me to choose a best photo. The places I visited were all wonderful, and I think I took around 1,200 photos. One of my favorites was during our trip to Cork.
We had just walked across the river, and I turned back to look at the bridge. Colorful houses lit up in the sun, and were a stark contrast to the aluminum of the bridge. The scene was surprising to find in Ireland, and served to remind me that there can never be one single image that represents an entire country.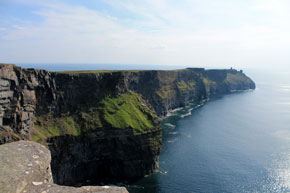 Describe your favorite must-have food that you tried abroad.
Sarah: My favorite food while in Galway was chowder; warm, fresh, flavorful. Because Galway was on the River Corrib and the Galway Bay, there was much opportunity for restaurants to serve fresh fish.
Most places on Shop Street served chowder, with a little individual flair to each one. I sampled soups with squid, octopus, potatoes, and numerous types of fish. Chowder is an absolute must-have if you are to spend any time in Galway.