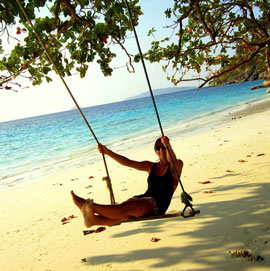 Why did you decide to go abroad with your provider?
Dorothea: When I decided to go abroad it was already November and I could just graduate and go with my Master's. But I decided to do something different.
I was too late for all deadlines. I didn't have a lot of money and I just started to google "cheap semester abroad in Asia". Some friends had just come back from their backpacking tour in Asia and made me all excited about the cultures, food and affordable prices. After going through some organizations I found the website from Asia Exchange.
I read some of the students' reports and blogs and became more and more convinced that Asia must be an awesome place.
The tuition fees were pretty low comparing to American or Australian universities' fees and the deadline for Thailand was still a week ahead. The people from Asia Exchange answered my questions via email in a day and were very supportive during the whole process.
Describe your program socially and academically.
Dorothea: We international students hung out a lot because we were living in the same small local village named Kathu. We met for pool parties after school, drove to some beaches, explored different local restaurants but also studied for exams together.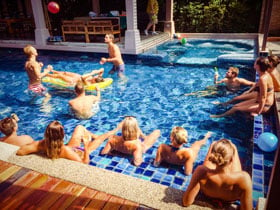 During the classes we met at our favorite restaurant for lunch. The courses at the universities were ranged from "okay" to even better than in my home university. Like everywhere else, it depends mostly on the professor, but most of mine came from international backgrounds and really made the lectures interesting.
It didn't seem as stressful as it had been sometimes in Germany even though we had a lot of workload. But I enjoyed the perfect Work-Life-Balance while writing my essays next to my own pool!
What was the best place you visited outside of your home-base city?
Dorothea: There were so many awesome places I have been to during my studies so it is hard to say which one was the best. But I think there were two outstanding places I have to mention.
The first one were the Similan Islands. We went with a group of students to the beautiful islands in the Andaman Sea. Never have I ever seen such beautiful water. We spend a night in tents, enjoyed the abandoned beaches, swam with turtles and went out for awesome snorkeling trips.
The other place was near to Hatyai. Some of us were visiting our Thai Buddys' families in southern Thailand and we went with them to a beautiful lake. It was huge that there were just lotus flowers as far as you could see. We made a boat tour through the lotus, saw some celebrity and enjoyed the nature, the fishermen and the silence. It was a different world.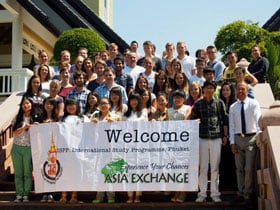 How has this experience impacted your future?
Dorothea: During my studies I learned not only about the Thai culture but also about the cultures of the other international students. It was interesting and sometimes funny to see how different everyone behaved.
Also, I was shocked by the different goals the Thais and we Europeans set ourselves with our university degree. I noticed that it is so important to really ask yourself what you want from life. We sometimes forget to enjoy the little things and are stressed out by trying to run through our university program as fast as possible.
I decided to work a year before I would start my post graduate degree. Therefore, I was happy to find an internship position at Asia Exchange. Now I can live and work in Finland for a bit and encourage students to do their semester abroad and to actually start to think out of the box and not just talking about doing it.