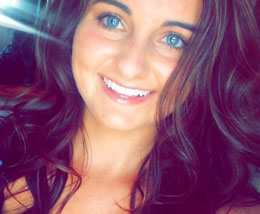 Where was your best photo taken and what was it of?
Sarah: The best picture I took on my trip was one that I took on my very first day in Dublin! I flew into the city a few days before my program started and explored the downtown area.
The very first impression I had of Dublin was of this street along the River Liffey where my cab driver dropped me off. After living there for an entire semester I realized that this street was the perfect representation of Irish culture as I experienced it: so friendly, bright, and lively, but also very welcoming, quaint, and homey.
My program, peers, and the Irish citizens made Dublin feel like home to me for the semester and I am so thankful to have had the opportunity to learn and grow in such a place. I plan on getting this picture framed to hang at home so I will always remember the city that had such a huge impact on my life!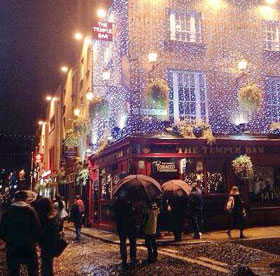 Describe your most meaningful souvenir and why you love it?
Sarah: The most meaningful souvenir I purchased while abroad was the Claddagh ring I bought in Galway. These rings are a huge part of Irish history and culture; they originated in a small fishing village that is now part of Galway in the 17th century.
The design consists of hands that represent friendship, a heart that represents love, and a crown that represents loyalty. Ireland was my host country and I loved learning about the culture and traditions while there, so it is very meaningful to me to be able to take home such an iconic symbol of Irish culture from the place it originated!
Tell us about an experience you had that you could not have had at home.
Sarah: It would be too difficult to choose just one experience that this trip gave me that I could not have experienced at home because, in all honesty, the majority of my four months abroad was filled with experiences I could never have had anywhere else.
Hanging off of the top of a castle to kiss the Blarney Stone, laying on the sidewalk directly underneath the Eiffel Tower, mastering the London Underground system, crossing a rope bridge between sea cliffs in Northern Ireland, listening to bagpipes in Scotland, speaking Spanish to waiters in Barcelona, shopping at the European Christmas markets, taking the Dart to Howth for the day, falling in love with my host city, and forming unbreakable bonds with my fellow students as we experienced all of these things together are just a few of the unforgettable experiences I had!
What is one piece of advice you'd give future students traveling with your program?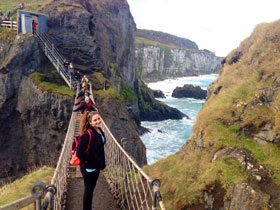 Sarah: One piece of advice I would give to future students traveling with my program is just to be present during your time abroad because it will go by in the blink of an eye and you don't want to miss a thing! While abroad I purchased a small phone that I could use for emergencies and turned off all cellular data on my iPhone for the semester to avoid international charges.
Having to turn off all cellular data combined with limited Wi-Fi access meant that I was not glued to my phone the entire time and I am so thankful for this, it helped me to be present during my experience and to enjoy the people and sights right in front of me. Also, turning off all cellular data meant navigating foreign cities, sometimes where English was not the native language, with only the help of old fashioned maps and great friends!
When you return home from your trip you will be surprised by how fast it went by, so just soak in every moment and appreciate the experiences you are having (even the not so great ones!) because you will never get an opportunity quite like this again.
Do you think your program changed you as a person?
Sarah: I think that my program made me a better person by improving my independence, self-awareness, confidence, problem solving abilities, and perspective. I learned so much about the world and myself during my time abroad and this helped me to see things beyond my front door.
I gained confidence, independence, and problem solving skills through my travels and the everyday problems that I faced. I truly feel that I could do anything I set my mind to after having this experience! Leaving behind everything that was comfortable and normal helped me to reflect on who I am and where I want to be in the future in a place where I was surrounded by possibilities.
The bonds I formed with the students and staff in my program had a very positive impact on my life and I only hope that they learned as much from me as I did from them! I feel that I came out of my program a more well-rounded individual with a better outlook on life.