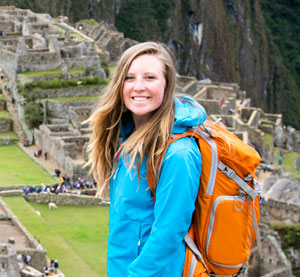 What is one piece of advice you'd give future students traveling with your program?
Brooke: Get out of your comfort zone. Experience the people and the place you're in, no matter where you travel. Don't get sucked in to spending all your time with other students on your trip.
My local connections gave me the opportunity to get involved in community activities like mass bike rides, hydroelectric protests, and dancing. Climbing, hiking and travelling with my Chilean friends brought me to places I wouldn't have known about otherwise.
I'm still connected with many of the Chilean students I met, and one friend is even coming to the U.S. to study abroad and visit me!
Describe a goal you set and how you went about accomplishing it.
Brooke: My two main goals were to speak Spanish fluently enough that I felt comfortable talking to anyone on the street and to create a photo story. I combined those goals and learned Spanish by talking to the subjects of my photo story almost every day for a month.
Every time I talked, even to my friends from the U.S., I tried to speak in Spanish. I talked to all kinds of people, from graffiti artists to vendors to random people to ask for directions. I travelled to Argentina and other parts of Chile where I heard different accents as well.
Did you run into a language barrier? Did you ever think you knew more/less of the language?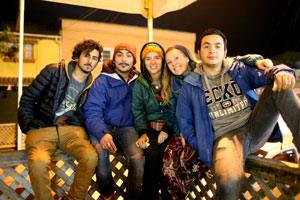 Brooke: There were multiple times that I ran into a language barrier and felt frustrated that I couldn't adequately express myself. It was really nice to have a best friend that spoke English in the same program because we helped one another learn and were there for eachother if we couldn't find the words to say in Spanish.
I realized I knew more of the language when my mom came to travel with me at the end of the program. I was able to act as our translator and felt super comfortable setting everything up for us. Fortunately I was never hindered to the point of complete misunderstanding, and people are very willing to be patient if you try to speak the language.
If you could do-over one thing, what would it be?
Brooke: I would try to spend more time with my host family. Host families can be the closest entry to understanding a country's culture and you can create lifelong international connections. While I do feel like I connected with my family to some degree, I would have liked to interact with them beyond the house.
Part of the reason why I didn't interact with them a lot was because I spent so much time with other local friends and went on a new adventure every weekend. Those experiences are super valuable to me as well, but I still think I could have spent a little more time with them.
How has this experience impacted your future?
Brooke: Since I learned Spanish fairly fluently I was able to get a job guiding in Peru with a teen travel company called Rustic Pathways. I also have expanded my expertise as a photographer since I can speak Spanish. I know that I will continue to use my language skills to work in a Spanish-speaking country again.
The classes I took in my program bolstered my minor in Anthropology and helped me better understand the language. When I did my program I needed an academic change of pace, and when I got back I was able to graduate quickly because I was re-inspired.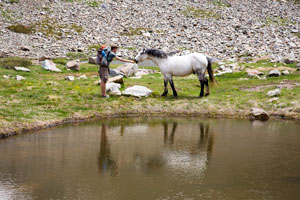 Personally, the experience made me feel very connected to Latin America. I know I will travel in the region again and I have even considered living there for a longer period of time in the future.
What was the best place you visited outside of your home-base city?
Brooke: Patagonia was an absolutely stunning landscape and a wild adventure. The bold peaks and bright blue water of the lakes will forever be etched in my mind.
My mom was able to join me to trek around Torres del Paine and we slogged through rain, crossed careening rivers, kayaked next to Glacier Grey, identified endemic wildflowers, and enjoyed all kinds of beautiful views. I think there's a reason it got added to the list of natural world wonders, because it deserves the spot.