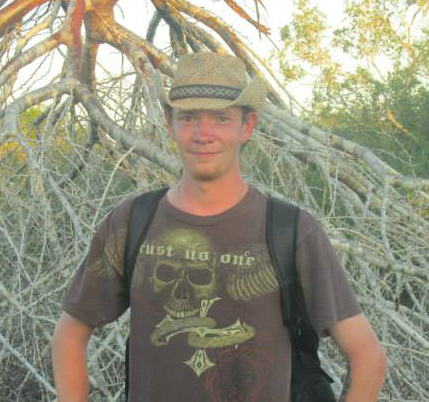 Why did you pick this program?
Colin: At the time I left for Kenya I was halfway through the Veterinary Technician program at Georgian College in Orillia, and part of the graduating requirements was that we had to do a co-op placement the summer after each year of classes. I'd decided years ago that working in a local clinic wasn't exactly my dream and that I'd rather go into conservation.
When AEI came to my school and did a presentation to students about who they are and what they do and I couldn't believe my luck that there was a reliable, legitimate organization that helped take vet techs (and anyone else of varying professional backgrounds) around the world to participate in conservation efforts! My mind was further blown when I found out that I could go to not only the continent, but one of the most significant countries in the world for wildlife conservation!
What do you tell your friends who are thinking about going abroad?
Colin: I tell them go for it! I think travel to just about anywhere is always a fantastic experience that has huge benefits for a person's career and character. If they find a trip that contributes to their field of interest that takes them to a part of the world of their interest, there's really no down side!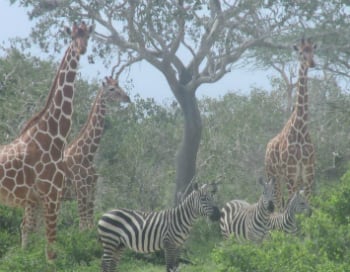 What's your favorite story to tell about your time abroad?
Colin: I have so many stories from Kenya it's hard to pick just one! One of my favourite experiences there was taking a casual unofficial evening patrol with one of the conservancy rangers named Duale (pronounced Doo-ah-lay) and hearing an elephant trumpeting in the distance. To view potentially dangerous animals the conservancy guidelines said we should have at least 3 rangers with us and 2 should be armed, but elephants are so rare in that area and we were so interested that we decided to go just a little bit closer.
A short time later we heard trumpeting again, and thought that we should really go back, a massive bad tempered beast could really ruin an evening, but we were again so interested that we decided to go just a little bit closer! A very short time after that one of us casually glanced ahead of us and spotted, maybe 40 or 50 feet from us and in the middle of a grove of trees, a huge female elephant!
She was probably watching us long before we noticed her, so she didn't seem too disturbed by us and we weren't there to threaten her, so Duale and I spent a beautiful time in the setting African sun talking and watching this beautiful animal tranquilly munching her leaves before we had to turn around and get back to the camp!
What is one piece of advice you'd give to someone going on your program?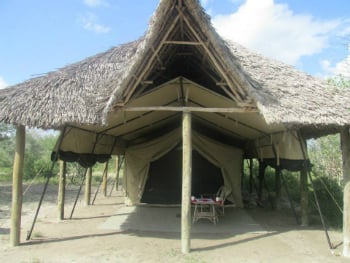 Colin: I would tell them to make absolutely sure they know what they're getting into before they go on their trip. Everybody has their own comfort zone and AEI offers all kinds of levels of comfort in their experiences, from a beautiful air conditioned down-sheeted private cabin to a tent in the bush in the most rural part of the country; I was in the latter.
Let there be no misunderstanding: I had an incredible time and I loved that tent like a home, but third world camping is not for everybody, so be totally 10000% sure you know the details about where you'll be staying or the climate or the cultural guidelines of the local people in the area. I did make sure of these details and AEI did a wonderful job in making sure I knew these things, and keeping in touch with me while I was away to make sure I was completely comfortable in my choice.
What made this trip meaningful to you, or how did this trip change your perceptions or future path?
Colin: This trip absolutely cemented that conservation abroad is the career path for me. As previously mentioned, at the time of my trip I was going through college to be a veterinary technician, and after graduation the majority of vet techs tend to go into practise in local domestic clinics or maybe an emergency clinic in a city (not that there's anything wrong with that at all).
Since before I even started the program, however, I was roughly 99.9% sure that conservation was the way I wanted to go, preferably somewhere isolated or in dire need of animal medical assistance, I just didn't have any way to try this out to make sure it's something I would want to do. AEI helped me try out exactly this and without any shadow of a doubt helped me plug that last 0.1% and at the same time gave me a fantastic start by giving me something hardly anyone else has to put on my resume!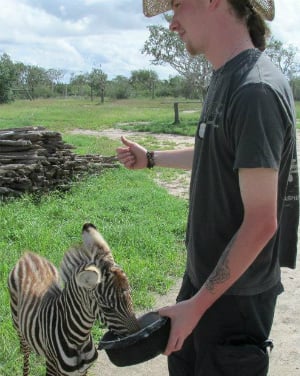 Things I learned during my time in Kenya:
1. Ishaqbini Hirola Community Conservancy rangers look tough and take a no-nonsense tolerance to threats to their conservancy, but when they learn you're there to help they're just big goofy teddy bears.
2. Never forget the GPS or a good ranger when you're going on patrol.
3. Hyenas do not laugh, they're the whooping thing that you hear all over the place at night. Luckily they can't operate tent zippers.
4. Baboons CAN operate tent zippers, so keep all your food in the kitchen hut under a firm lock.
5. Baby zebras are incredibly cute but unfortunately do not fit in carry-on luggage.
6. You WILL fall in love with Africa and want to come back as soon as you leave. Luckily, AEI has an adventure for that!