Why did you pick this program?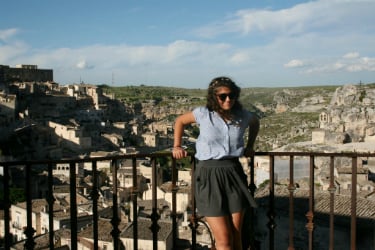 Leah: As a high school exchange student, AFS offers the structure that my parents wanted and the experience that I craved. Being able to live with a host family and fully immerse in a different culture is an amazing experience that AFS certainly can help you achieve.
No matter where you choose to study abroad, AFS will set you up with an amazing host family, and with a really great local, regional, and national support system. Of course no program is perfect, but I wouldn't trade my experience for anything, and I would recommend AFS to anyone interested in study abroad.
Italy in particular is a great place to study abroad because of its warm and welcoming culture, beautiful language, and great food. Not to mention awesome public transportation, perfect for all of your traveling needs! I chose Italy primarily because of my Sicilian heritage, but I would recommend it to anyone who is looking to study in Western Europe. You'll likely find yourself in a beautiful Italian town, sipping local wine and munching on some delicious fresh bread.
What do you tell your friends who are thinking about going abroad?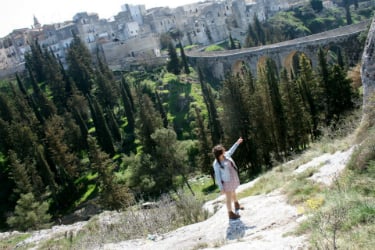 Leah: Do it! Studying abroad is the best decision you could ever make, especially in high school. High school is a time when most of us are just trying to figure out our interests and who we are, so why not do it in another country?
Stepping out of your comfort zone is one of the best ways to learn new things about yourself, and I don't think it's possible to study abroad without doing just that. In high school, you don't have to worry so much about credits transferring or picking a program that suits your area of study, and living with a host family is an amazing experience, and something you most likely won't do in college.
Also, if you can make a longer program work, you won't regret it! My parents didn't feel comfortable letting me go to Italy for the full ten months, so I only went for the semester, but I always wish that hadn't been the case.
What was the hardest part about going abroad?
Leah: Coming home! Adapting to the cultural differences and language in Italy wasn't easy, but it was a complete adventure! Every day there was something new to try, something different to do, and people to meet. Most of the cultural differences I encountered while abroad weren't negative ones, or at least made funny stories to tell.
Coming back to the United States, on the other hand, was total reverse culture shock. Everything around you is probably the same, but you're most likely a completely different person. If you choose to study early on in high school, like I did, you'll have a long road ahead of you. You've probably caught the travel bug, and graduation will seem a million miles away!
Of course, there's a positive side to this: you'll have so many new adventures to plan and look forward to, and hopefully have the opportunity to study or live abroad again in the future.
What made this experience unique and special?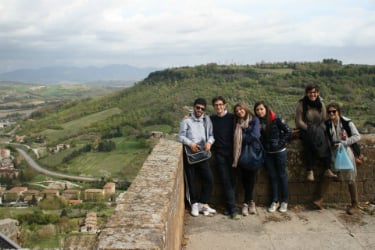 Leah: The other AFS exchange students. One of the best parts of AFS is the group activities that you have the opportunity to participate in, and the very high likelihood of getting to live in the same town as other AFS exchange students.
From orientation in New York to our last night in Rome, most of my favorite memories involve other AFSers, many of whom weren't American. No matter your background, you're almost guaranteed to become instant friends with any other exchange student you meet. The type of person who studies abroad in high school, whether they be shy or outgoing, quiet or loud, Latvian or Argentinian, is the type of person who you want to hang out with!
While of course you want to become friends with the locals, you'll never regret the time you spend with your fellow exchangers.
What is one piece of advice you'd give to someone going on your program?
Leah: You make your experience. Although AFS does most of the legwork, finds you a family, sets up the flights and orientations, and lays out the framework for your exchange, it really is up to you to make those lasting relationships with your host family, learn the language, and form those incredible memories.
No matter what program you go on, nobody is going to tell you to buy that train ticket, try that weird-looking food, or put yourself out there. Make every day count, and I promise you won't regret it.