Why did you pick this program?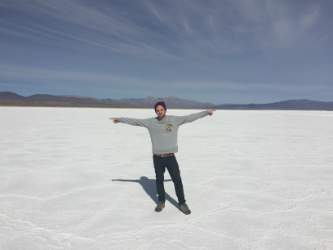 Tom: Quite simply, the country :) I wanted to start off my Argentina experience immersing myself into the culture, forcing myself to learn the language by being out of a big city and learning the secrets of the land.
What do you wish someone had told you before you went abroad?
Tom: Hmmmmm, prepare to wait in line. I did a lot of research before I came, I thought I had everything under control and in the most part the transition was as I expected.
One thing I still struggle with now even after 4 months is the waiting. Waiting in line for a bus ticket, waiting at the supermarket behind a line of 12 people, waiting 20 minutes to buy a movie ticket, waiting for an unthinkable amount of time to get into a club.I blame the western world for instilling this terrible personality flaw but I think im slowly regaining control of my internal desire to scream at the top of my lungs every time I see a queue.
What is the most important thing you learned abroad?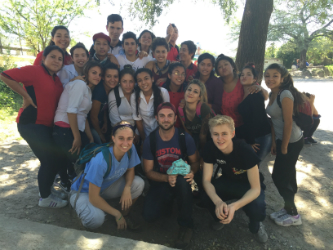 Tom: A tough question.
I have learnt to give respect to everyone. From the man who wants to wash your windscreen, to the person who comes up to you at the dinner table and tries to sell you socks, to the random stranger on the street who might at first be incredibly annoying but just wants to learn about your country and your culture.
These people all have stories, they are all trying to either make money to support themselves or learn about something they haven't had the opportunity to experience. Don't flick them off with a irrational get away from me, talk to them and learn from them. In my experience its always worth it.
What do you tell your friends who are thinking about going abroad?
Tom: Be prepared to be challenged. Everything is a little harder in a foreign country, I mean this is obviously particularly difficult if their is a language barrier but travelling is nearly always challenging.
Its a good type of challenge, one you will learn and grow from but even when it seems completely useless and there is no solution to a problem, there always is. The achievement in solving a problem that you think is unsolvable is so rewarding.
What was the hardest part about going abroad?
Tom: Leaving. Always a horror. The hardest part by far is leaving your family and friends and your comfortable life. I mean if you are going for a month or 2 then maybe the feeling is only comparable to watching Leonado DeCaprio slide into the icy cold water in titanic and less like being run over by a 14 wheel lorry truck on a gravel road.
Perhaps Im being slightly dramatic, everything gets better with time of course, as you settle and explore you appreciate the amazing experience. Still, if there is one thing I miss, its my family and friends.
What's your favorite story to tell about your time abroad?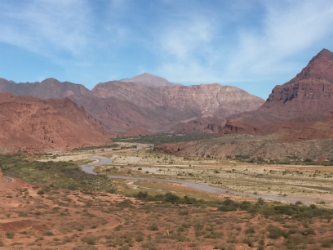 Tom: 7 volunteers and I left our little village in the province of Cordoba to go to Parque national Quebrada del Condorito, the national Condor park. We left at 10am and had to travel 3 hours. After 2 buses, 150 pesos and an hour of waiting we arrived 3pm, much later then expected. We walked 30 minutes to the office where we were told it was too late, the park doesn't let anyone enter after 3pm. Literally 5 minutes before and we would have been fine to enter.
The word frustrating doesn't quite cover the situation, we had already booked a bus back at 7:30pm meaning we had to wait 4.5 hours before we could return. By 6pm it was pitch black, as you can probably imagine a giant bird park is naturally at the top of a mountain, it was sub 0 and we were not at all dressed for the occasion. We huddled in a circle next to the road to wait for a bus, we were truly frozen like ice cubes by the time it arrived.
We got home by 12am, even though we thought we might perish into the night, we didn't. Even though we didn't see 1 Condor we did get to see the impressive natural scenery, even though we missed the nights plans that had been organised for all week we got to bond together in the icy terrain.
What made this experience unique and special?
Tom: I don't want to sound cliche but the people. I met so many amazing people, from the local staff at the house to the awesome every flowing group of volunteers that came and went during my 3 month stay. I learnt much more then I expected, not only with the local language and culture but about myself and about different countries around the world. I have made some great friends and a number of them I know I will meet again in the future.
Tell us about an experience you had that you could not have had at home.
Tom: Hmmmmm. Standing in front of a class of students at the local school I was working at having to answer questions (In Spanish) about my country and culture then topping it off with having to sing my national anthem to the entire year 12 class. This would have never happened at home, especially if anyone knew how terribly I sing. Oh well. YOLO!
What is one piece of advice you'd give to someone going on your program?
Tom: Dont have such high expectations, things probably wont be as you expect them to be at first. Enjoy the journey and don't focus on the destination.