Why did you pick this program?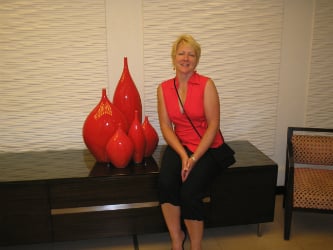 I've always had a burning desire to get to Cuba.
Global Volunteers offered a People to People Exchange that covered the REAL Cuba. No tourist beaches, no fancy areas, just real everyday life in the heart of Havana and off in the farmlands of Ciego de Avila and Moron.
It sounded like the perfect mix!
What do you wish someone had told you before you went abroad?
I wish I had an understanding of a bustling place with NO stores.
We met with a lot of different groups to exchange cultures and I wish I had loaded up on toiletries, little soaps, creams, tissues, bath products and things we consider part of everyday life.
There was nothing there for the people.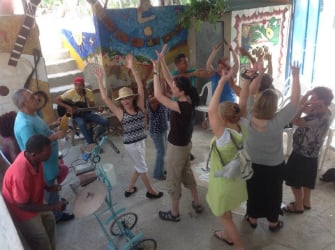 What is the most important thing you learned abroad?
I've been abroad quite a bit, I'm 52 years old.
Cuba taught me that no matter the governments politics and restrictions,
people do not necessarily hold those views or negativity to outsiders.
The people were warm, welcoming, curious and very open about wanting a better life.
What do you tell your friends who are thinking about going abroad?
GO! The world is changing fast, sometimes for good, sometimes bad.
Get out there and see as much of it as you can.
Scrimp and save and you will be paid back ten fold.
Traveling abroad makes you a better person.
What was the hardest part about going abroad?
Besides a lack of toilet paper, toilet seats and clean drinking water,
nothing about it was hard.
All of the above things were remedied by thinking ahead and finding enough bottled water for the day.
What's your favorite story to tell about your time abroad?
My favorite "stories" come from the side streets, the little makeshift stands where people would try to sell whatever they could.
If they had a pig, they killed it, cut it up, put it out on a table and put up a sign like "Jose's Butcher Shop".
If they had a few vegetables or some crackers, they would do the same.
I am a small business owner and it gives you an entirely new view of survival and ingenuity.
What made this experience unique and special?
We were able to sit with elders in the Council of Churches.
These folks lived through the Battista government/dictatorship.
They saw Fidel Castro and Che Guevara come along and with a newer form of government and radical ideas.
We see them completely differently than they do.
It was a great conversation filled with real life memories and their perceptions.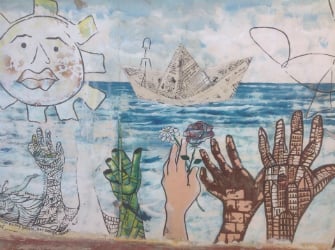 Tell us about an experience you had that you could not have had at home.
There were so many little street experiences we would never have.
Cuba is dripping with talented artists, music, cultural ingenuity and alley upon alley of creative artwork made from NOTHING.
Hubcaps, metal, rebar, paint, etc.....
Unbelievable creativity in the midst of poverty.
What is one piece of advice you'd give to someone going on your program?
Learn some Spanish. It helps.
Bring Kleenex and toiletries.
What made this trip meaningful to you, or how did this trip change your perceptions or future path?
This trip exceeded my expectations because Cuba is so rich with contrasts. Old crumbling buildings, new intricate stone buildings, old cars EVERYWHERE you look, all day long....you cannot stop looking at them!
I'm glad I visited before the embargo is truly lifted and it becomes an American "tourist" spot.
Would you eat the "street food" in Cuba?
YES, it was fabulous!