Why did you pick this program?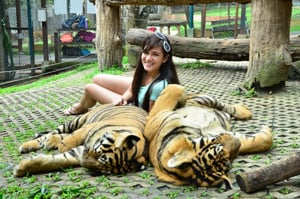 This program intrigued me because it was hands-on, and I mean HANDS-ON, working directly under a veterinarian. I love traveling and Thailand is such a beautiful country, so to be able to gain veterinary experience and travel a new country all at once was perfect. Plus, we can't forget the obvious, the elephants and tigers that we got to hang out with.
What do you tell your friends who are thinking about going abroad?
I say, GO FOR IT! Everybody should go abroad at least once in their life. You do get out of your comfort zone, and trust me, my issue was that I'm an extremely picky eater, but I found delicious food to eat at every meal. You will regret the experiences that you don't take!
What made this experience unique and special?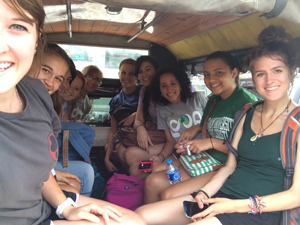 There were so many things that made this trip so special to me. The group of girls I went with were absolutely incredible and I have made long-lasting friendships with them. The extra experiences that the directors provide us with, such as hiking to temples and waterfalls, visiting night markets and the Tiger Kingdom, spending time at a Thai elementary school, and so much more made this experience one of a lifetime.
Tell us about an experience you had that you could not have had at home.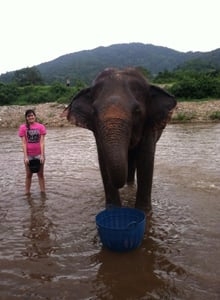 There are so many! For one, giving elephants bucket baths and floating in inner tubes down the river with elephants all around. Playing with tiger cubs, exploring night markets for hours, and actually neutering a dog and cat are just a few more. None of this would be possible at home, which is why this program is such a great opportunity for interested pre-veterinary students!
What is one piece of advice you'd give to someone going on your program?
Bring lots of sunscreen and bug spray. You'll need it!
Seriously though, have fun, and don't stress too much. It is a new experience, and everyone will feel off in the beginning since we are all thrown out of our comfort zone. Don't be afraid to connect with the people in your group, because everyone is going through the same thing. The directors and care takers are absolutely amazing and they make sure that you have everything you need and more.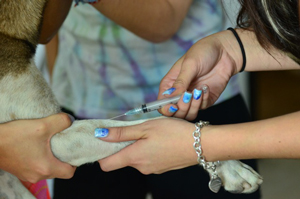 What made this trip meaningful to you, or how did this trip change your perceptions or future path?
This trip gave me my first experiences working directly under a veterinarian. Starting with the basics of giving dogs physicals, to learning how to neuter both cats and dogs. I always told myself and everyone that I wanted to be a veterinarian, but prior to this trip, I had no idea what it would be like or if I would even enjoy it. Now, I am confident that I want to continue in the path to veterinary school.