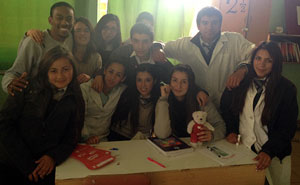 Highlights: More than anything, I enjoyed the openness of the Chilean people. Strangers were always asking questions, stopping to talk, and inviting me places. You learn a lot about the country and even more about yourself in a situation like that. I felt like a representative for the U.S. By the end of my stay, I basically had to go from door to door to say goodbye to everyone.
Morning: In the mornings, I would head down to breakfast prepared by my host mother. Breakfast in Chile is typically very light – bread and tea/coffee with marmalade and maybe an egg. Don't worry about having to take cold showers. The program assures that every host family has hot water available. After breakfast, I'd walk to school 5 minutes away.
Afternoon: I had my own classroom and liberty to compose my classes how I saw fit. I taught grades 5-12, but I understand that some volunteers taught only younger students and some taught in high schools. I taught all day with an hour lunch break at 1pm. I had the option to eat with the students, but I preferred to eat at home for a home-cooked meal prepared by my host mother.
Evening: In the evenings, I headed to the beach and visited neighbors. As a foreigner, the Chilean people are generally very interested and I was often invited over for tea and wine. Later in the evening comes once, or "tea time." This is generally bread with tea, coffee, or wine. It's a time where the family gathers to talk about the day and can last for hours. During "once," I gained the most insight into Chilean culture.