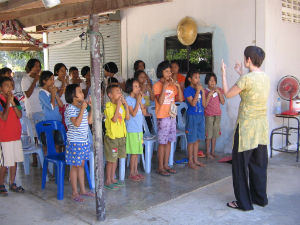 What is your favorite travel memory?
When I was first traveling around Thailand I joined a project to help build a mud house for some hermit monks living in a cave in small village in southern Thailand. We spent a week living in and around the cave with these monks. I slept in a little hole in the side of the mountain and woke up every morning to meditate with the monks. If that wasn't amazing enough, the local village took us on a hike in a patch of jungle no one had ever explored. We had to climb through an opening in a cave to get into the jungle and our day was spent hiking, eating and splashing in the creek with the people of this very special village.
Which destination is most underrated? Conversely, which is most overrated?
Tiny little rural villages off the beaten trail are underrated. I'm glad they are because it wouldn't be the same otherwise. It offers such an authentic taste of local culture. Popular tourist destinations, like Phuket are overrated.
What do you believe to be the biggest factor in being a successful company?
Having passionate people work for the company that drive it forward because they truly believe in the company, the mission and the work they are doing.
How have you changed/grown since working for your current company?
In almost every way! I have gained so many new experiences and skills in leadership, management, giving presentations and training, effectively using my time, people skills, just to name a few.
What unique qualities does your company possess?
We are a fun, passionate, quirky and friendly bunch that make up our company culture. We are good people.
Describe a time when you felt especially proud to be part of your current team
Every time I visit one of our projects and see how proud the staff are of the projects they are running on the ground.