What is your favorite travel memory?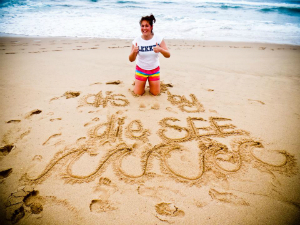 Whilst on a diving holiday a tribe of monkeys invaded our campsite and raided our food stock. After our morning dives we got back to the camp – chaos had broken loose and empty food containers and pieces of fruit were scattered all over our campsite. In a desperate attempt to counteract the monkey business, we cable tied our tents the next day. Murphy's law had it that we forgot one of the zippers, and the monkeys found a way in. We were yet again welcomed to the aftermath of the monkeys' feast. This time they came back with vengeance! I had a coffee-and-toothpaste smeared bed and all my vitamins and energy boosters were eaten. Needless to say, we had very healthy and energetic monkeys roaming our campsite! After that, we took proper precautions to keep the monkeys at bay.
What do you believe to be the biggest factor in being a successful company?
A successful company offers its customers, in our case volunteers, value, quality and a great experience to take home with them. This takes a great deal of planning and organization to ensure that all systems are in place and that every employee is trained and equipped to fulfill their role. Which brings me to employees… Employees are the driving force of a company and it is important that their needs are tended to and that they are happy, as this will optimize their loyalty towards the company.
What is the best story you've heard from a return student?
As a diver I am especially passionate about marine conservation and this specific story really inspired me:
"Thank you for such an awesome experience in Fiji, I have come back reenergized and have changed the course of my medical career – I will be taking next year off to work in the developing world. Thank you all for the inspiring and profound impact you had on my person and my career. I feel that this decision is the beginning of something truly extraordinary!" - Clare Curtis, (Australia).
How have you changed/grown since working for your current company?
Since starting to work for GVI I have been reminded that we live in world that is in need. Apart from developing my professional skills, I have gained an insight, appreciation and passion for the volunteer world. I love knowing that I can use my skills to make a difference in the world. Looking back on my time at GVI I value the career growth that I have gained, but even more so, my personal development. GVI's values and mission have inspired me to live a life of awareness and to truly aspire to be the difference in the world.
What unique qualities does your company possess?
Global Vision International places great value on being passionate about whatever we do. I feel privileged to come to work and know that my colleagues are also motivated and passionate to get the job done. I love the fact that GVI is made up of people from all walks of life and you are accepted as you are. The comfortable atmosphere at GVI is certainly a big turn on too. GVI is more than just my employer, it is a group of people who support each other in life's ups and downs and truly live to make a difference in the world.