What is your favorite travel memory?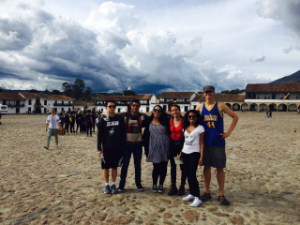 If I had to pick only one favorite memory, it would be when I went to the Niagara Falls. It was unbelievable to be in the middle of the river, being able to see such power of nature reflected in the falls. I felt so tiny and huge at the same time. Also, I was with my best friend and the whole trip to get there was very crazy. We almost got lost in NYC before we finally reached the bus that'd take us in a whole day ride to Niagara falls.
What do you believe to be the biggest factor in being a successful company?
Having a close relationship with your users/customers understanding that they are the reason for your organization to exist.
How have you changed/grown since working for your current company?
Definitely! I've been working for Red Tree Study for a year and it has been an opportunity for me to learn so many things not only in the professional area but personal too. My work here has been very important to identify my strengths and to help improve aspects that I needed to work on.
I believe that I've grown in this company because it allows me to be creative, flexible, and independent and to do what I like the most: meeting people and establishing relationships!
What unique qualities does your company possess?
We care about our customers and try to give them more than what they expect by being close to them and treating them like friends, helping in any way we can. We are able to do that because we've been foreigners in other countries and we understand what it is like to adapt to a new culture. We know that and we want to be part of that for other people so that they know that they can count on us.
Describe a time when you felt especially proud to be part of your current team
I'm very happy to work for this company but if I had to mention just one time i felt especially proud I'd say it was when I visited one of the film companies for the summer internship program. I went to talked about what we have done the previous version of the program and they were very enthusiastic about it. They really liked what we have done and the video made by one of the interns who recorded the nice experienced they had whilst in Colombia.
What is the best story you've heard from a return student?
I think Kanaru's experience was very good. He was very thankful for the time I took to help him out and the best story he's said is about how we became friends. He tells this to almost everyone he knows in Colombia and is how it started with him asking Red Tree Study for help to find a Spanish school and now he tells his friends that I'm his best friend in Colombia. We always try to become friends with the students. And in this case the best part is that I've seen his progress through the time he has been in the country.