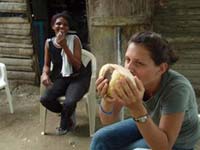 What is your favorite travel memory?
Wow, I have so many amazing memories, and many of them have to do with the times I've spent around Granada, Nicaragua, a place I highly recommend. But my most recent favorite was while traveling through Ecuador in January, 2016. I fell in love with the architecture, vibe and the arts in Cuenca, it's just such a special town. Still, for me, the highlight of Ecuador was Mindo. Hiking through cloud forests and lush green hills, seeing the waterfalls, the amazing wildlife -- it was an unforgettable experience. I'd move to Ecuador in a second, but if I couldn't live in Mindo, Cuenca would be a close second.
Which destination is most underrated? Conversely, which is most overrated?
Ayacucho, in Peru, comes to mind. Not that it is underrated, more like unknown to most international travelers. Peruvian tourists love it, and that's a good sign.. Most foreign tourists go to Cusco, Lima and of course Machu Picchu, but they miss Ayacucho, which is roughly between Lima and Cusco. And that's a shame, because Ayacucho has it all: brilliant weather, spectacular churches and cathedrals, amazing religious celebrations, archeological sites, and the natural wonders of the nearby pampas. It's also a fun, good-sized university town, and ELI has some fabulous programs there. Overrated? Think, tourist trap! Cancun, for example. I advise Mexico travelers avoid it and head to Merida, another place we have volunteer and internship programs.
What do you believe to be the biggest factor in being a successful company?
Two key factors make ELI unique. First, it's a nonprofit, so automatically, its goals are different and the company is run differently. We're very small, we keep our overhead very low and we pass our savings to our participants in the form of very low prices. We're pretty passionate about our programs, and fundraise for some of them, supporting an orphanage in Uganda and earthquake reconstruction efforts in Nepal, for example. Second, our staff may be small, but we're all super experienced. We've traveled to the countries we represent and we know our placements -- which in turn means we can really advise our participants or create an individualized placement to fit their specific goals and skills.
How have you changed/grown since working for your current company?
I'll be honest, I was overwhelmed when I started at ELI. I know a lot about Latin America, but ELI works in 28 countries around the globe, and there was so much to absorb! Our programs run the gamut: from working in women's empowerment in Peru and a hospital operating room in Uganda, to internships at the National Museum in Ireland, or with an engineering firm in South Africa. So instantly, my focus of the world had to expand. I've loved developing personal working relationships with our international in-country coordinators. I've heard amazing stories from our participants. There's no doubt that I have a much broader point of view now, and a deeper understanding of the human experience around the world.
What unique qualities does your company possess?
There's a wealth of international experience at ELI, and it has extensive connections in the countries it represents. That means we're uniquely positioned to help prospective interns and volunteers find just the right placement, in just the right country. Whether you're a college student who's a novice to international travel, or a seasoned professional who's been everywhere, ELI can advise you of the options that best fit your needs - or create a custom experience just for you. We like being creative. We once sent a young woman to work for a newspaper in India and then to an elephant camp in Thailand. We've sent groups of physical therapy students to Ecuador, nursing students to Vietnam, retired teachers to Poland. I can't think of anybody we can't place… well, maybe an agoraphobic.
Describe a time when you felt especially proud to be part of your current team.
In April 2015, a huge and deadly earthquake struck Nepal. Luckily, none of the ELI volunteers, coordinators or their families were hurt. Still, we had no choice but to suspend the program, one of ELI's most popular: with much of Kathmandu in ruins, aftershocks rocking the city, and a severely compromised infrastructure, Nepal was simply too dangerous. The ELI staff revved into action, working nights and weekends to find alternative programs for the dozens of participants slated to travel to Nepal all throughout that summer. We secured new placements and housing for them in Cambodia, India and Thailand. We also began fundraising for the people of Nepal, and organized volunteer rebuilding crews ready to fly into Nepal as soon as it was safe. I can honestly say, our office and our volunteers made a difference in Nepal then, and continue to do so today.
What is the best story you've heard from a return student?
You can't help but grin when someone tells you "I'm so glad I took the risk and put myself out there!" or "I met the love of my life at my placement!" (Yup, we've heard some good love stories.) We've had returning volunteers launch new careers based on their ELI experience. One bought a generator for an orphanage in India where she was volunteering. Another made three separate trips to intern at a hospital in Uganda: when she was a pre-med undergrad, when she was in medical school, and in the last year of her medical residency. Others used their experience to get into grad schools, or got their dream job because of their international background. I can't say I have a "best story," but I do have a lot of really good ones.