What position do you hold at Pacific Discovery? What has been your career path so far?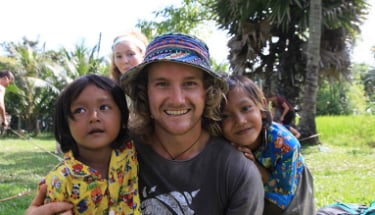 Before starting as a Program Leader for Pacific Discovery, I was working in Central Australia as a bush-walking guide, taking adult clients on 14-day expeditions through the remote West Macdonnell Ranges, on the Larapinta Trail. It was awesome work, but I was craving something that allowed me to work with younger people in the context of service work and adventurous travel. I spent most of my teenage years fishing, kayaking, hunting, diving, mountain biking, tramping and rock climbing. These experiences fueled my passion for the the outdoors, and I went on to complete a Bachelor's degree in Adventure Recreation and Outdoor Education.
What unique qualities does your company possess?
Pacific Discovery programs are so much more than just an overseas experience. They are a journey INTO a country. They are designed so that students are able to see what really make a certain place tick. While building a new home for a misplaced family in Cambodia we will live in their village. We enable the students to get to know the people, and get a real understanding of what their daily struggles are, as well as how important our efforts are to their livelihood. Also, we want our programs to be a part of the students individual lifelong journey. We focus on the transference of learning from program to home. How are we going to take what we have learned, and use it to make our world at home, wherever that may be, a better place? These aspects make our Pacific Discovery programs a unique learning experience.
Describe a time when you felt especially proud to be part of the Pacific Discovery team.
I love the connections that we are able to form all over the world through this job. Be it with local rock climbing instructors in Thailand, trekking guides in Nepal, or a conservation ranger in one of New Zealand's national parks. Not to forget the students themselves! With social media making communication a breeze these days, it's super easy to stay closely in touch with buddies on the other side of the world. Giving young people the confidence to step outside of their comfort zone, be that in a mental or physical capacity, has always been a massive highlight for me. We do rock climbing on a couple of our programs, and this is a good format for getting folks to push themselves a little further than they would normally. Everything is managed and totally safe, so it is just a matter of helping them to push through those personal barriers such as thinking "I don't think I can do this". Some of the biggest grins I have ever seen have been on the faces of students who have just completed their first rock climb, stoked!! It is such a privilege being a part of those experiences.