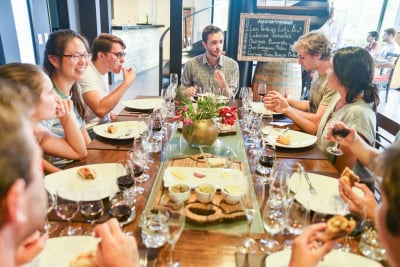 What is your favorite travel memory?
I have many favorite travel memories but most recently I spent the New Year in Bariloche in the South of Argentina. It is a picturesque area of Patagonia, filled with blue lakes, never-ending forests and incredible mountain views. I spent a full 10 days hiking and exploring the region. My favorite moment was spending the night in a refugio (or cabin) at the top of a mountain peak with the most breathtaking views of glaciers and meeting the other hikers from all over the world. It was a one-of-a-kind experience that I will never forget. Although I have lived in Argentina for many years, I had never made it to the south previously and I am so happy I did. I plan on returning as often as I can.
What do you believe to be the biggest factor in being a successful company?
Like many leaders at big companies or small startups, what I think makes a company successful is the people. The staff at Expanish is incredible and I think they are what make us a great organization. We have first-class facilities and provide first-rate services, but what students remember the most are the relationships they create with their Spanish professors, our front desk staff and our activity and group coordinators. Although we receive over 1200 students per year, we are a close-knit team who strive to make sure all students feel like family. Expanish would not be what it is today without the awesome people that work here.
How have you changed/grown since working for your current company?
I started out at Expanish as a program advisor helping students prepare for their journey in Latin America. Just five years later I am now managing the operations of our school and all of the study abroad programs we run. I have now had experiences with students and universities from all over the world and feel that the last 5 years have been an incredible professional growth experience. I hope to continue to make long-lasting connections with students and university staff to help promote study abroad in the region. Latin America has so much to offer and I would love to see programs grow in Argentina and beyond.
What unique qualities does your company possess?
Latin America is not always the most organized place so it is always an adventure running a company and organizing programs. We have an international team that helps maintain a really high level of organization and quality that is not common in the service industry in Argentina so we are very proud that our partners feel confident with the programs we have organized for their students.
Since we are a Spanish school we also have an established infrastructure and building that allows us to provide a great space for students and faculty alike. Here we hold orientations and classes and we really like that students hang out in our common areas during their free time as we want Expanish to be a home away from home.
Describe a time when you felt especially proud to be part of your current team.
We recently had a 17-year-old Brazilian student study with us and stay in a homestay. His parents were understandably worried about his international trip alone and how he would handle Buenos Aires. Our staff went above and beyond to help him feel comfortable in the city. We took him to and from his homestay on the first day, checked in with him frequently about activities he wanted to do and how his classes were going and showed him (and his parents) that we are here to support his overall experience. By the end of his 2-week stay, he was loving the city and classes and is already planning on returning next summer break. I love it when our staff gives personalized attention to students and they leave Argentina with great memories and a desire to return.