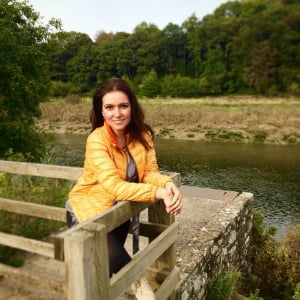 What position do you hold at CEA? What has been your career path so far?
I have always been a Program Director for CEA; some of those years I worked in Mexico and now I'm in the UK, making me the only CEA employee with that characteristic! I have a major in Tourism Administration and a Masters in International Business. Before joining CEA, I worked as a teacher for different age groups, I worked on board of one of the largest ships at sea circumnavigating the world. After a few years I needed to be back on land, so I found myself the best job ever… at CEA! Ever since, I have never looked back. I believe in helping our students make the most out of their experience and help them avoid any unnecessary stress -- without stealing those moments of "sink or swim" that shape character for the rest of their lives.
Why is language learning and cultural immersion important to you?
I often say that if you speak one language you are worth one, if you speak two….you are worth double. We should always be open to new cultures, ideas, different ways of doing things, because staying flexible makes you stay young. We live in an interconnected world where we are no longer dislocated from anything or anywhere, and as we understand each other's way of life, the more things will make sense. This will undoubtedly help us come to terms with other regions of the world, as more often than not we believe to hold the truth, when in reality, most of the time we only have a glimpse of it. As we see and experience how the world evolves and becomes a more integrated place, it is necessary to comprehend where the rest of the world is coming from.
What changes would you make to the study abroad industry?
I would like for our students to have a fully immersive study abroad experience. However, with today's digital communications, it's very easy to always have one foot in each continent, which, in my opinion, is a distraction to the power of NOW, HERE, and THEN. I would like students to realize that not only the body is here, but the soul must be too. As much as we benefit from Facebook, Twitter, SnapChat, etc., I can't help thinking that it's a double-edged sword that takes away some of the real depth the study abroad experience has to offer. I strongly believe that we have a massive influence on our students, and the profound effect we have on them means we are always eager to be on top of trends, forgetting about how things are "always" done and seeing how things could be done better in the future.
Describe a time when you felt especially proud to be part of the CEA team.
I always feel special about being part of CEA. That's why I have been with the company for 11 years in two different countries! There are many occasions that feel special, like when a student says "thank you" and you see a spark in their eyes, when they say "I love everything you do for us," when looking after them during a hospital stay or an excursion, when I see them having a blast because of activities I have organized. Every day is an open opportunity to feel special and each student is an open door to walk through, so we better make sure we leave the best impression ever and along the way leave them with enough encouragement to never give up their dreams.