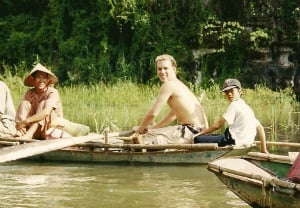 What is your favorite travel memory?
After my semester of study abroad in Hanoi, I took the following semester off and backpacked around Cambodia, Laos, China, and Thailand for the next 4 months. I didn't have to rush to the next place and was able to travel slowly through each of these places. I met interesting people, saw amazing places, and had the time to reflect on where I was headed through college and beyond.
Which destination is most underrated? Conversely, which is most overrated?
Underrated? Japan. Really, if you just take 3 years of Japanese classes and struggle through day-to-day life for 5 years, you'll finally see at least half of the amazing things on offer. Overrated? No such thing. If you bring a sense of wonder and curiosity to a place (near or far), it will be an amazing experience.
What do you believe to be the biggest factor in being a successful company?
The biggest factor for us is staying mission-focused. We focus foremost on running safe and exceptional programs that empower our students to change the world. All of us at TBB are really passionate about our mission and that drives all the decisions we make as we strive to continue to be successful.
How have you changed/grown since working for your current company?
My first job out of college was teaching English in Japan, so most of my job was delivering a curriculum that had often been predetermined. With TBB, I grew so much as a teacher. I was challenged to think about teaching in a much more holistic way and to grow in my ability to support students as learners and people and not just an audience in a classroom.
Describe a time when you felt especially proud to be part of your current team.
I'm always extremely proud at the graduation events for each gap year group. Students give presentations of learning capturing their growth over the course of the program which show amazing learning happening in the field for each student. The real work was done by each student, but I'm so proud of the work we all do to make these experiences safe and successful for students.
What is the best story you've heard from a return student?
The best story that I hear from so many of them is that their experiences while with TBB come back to them on a daily basis and that those experiences have forever changed the way they engage with their life and the world around them.