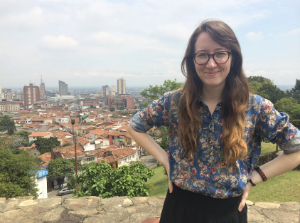 What is your favorite travel memory?
One of my favorite travel memories involved a miscommunication in Colombia. I was staying with a friend's family while doing research in Pereira. They invited me to what I thought was simply lunch at their friends' house. After an hour drive through an extremely beautiful mountainous region, we arrived at a gorgeous farm surrounded by coffee and plantain trees. This was not simply a lunch. It was a huge family barbeque with a live band. They had a full soccer field with lots of kids playing and a gorgeous swimming pool. I had no expectations that day, and it turned out to be one of the most fun days I can remember. It's also a great reminder to simply be open to new experiences and go with the flow when traveling; you never know what type of opportunity could arise!
Which destination is most underrated? Conversely, which is most overrated?
I definitely underestimated how cool of a city Cochabamba, Bolivia is. I didn't know very much about it before we arrived, but I loved the plazas, the market, the wide variety of restaurants, the weather, and much more.
In just five weeks, I felt invested in so many different parts of the city: the environmental community, the fashion community, and even the soccer community. I never would have imagined experiencing so much of what the city had to offer in such a short amount of time, but the Cochabambinos were so open and welcoming that it was easy.
How have you changed/grown since working for your current company?
Although I'm still slowly discovering how I have grown since I started working with TBB, other changes happened more quickly. I practiced a lot of patience during my time with TBB, whether it be with last minute changes requiring flexibility or simply differences in communication styles or points of view. I gained confidence in my ability to make decisions and my own authority.
I also learned a great deal about international development throughout the trip. I read the same books and articles as our students, and though I perhaps was more familiar with some of the concepts beforehand, I also learned a lot through teaching and discussion with them. The day-to-day interactions at our work sites involved hands on learning with the topics that I had never experienced before.
What unique qualities does your company possess?
I think one of the most unique qualities that TBB has is the extremely thoughtful curriculum for the seminar series. As a program leader, I knew I was interested in the topics we were planning to discuss, but I wasn't sure if the students would view the seminar as a useful or important part of their journey.
It turned out that most of our students really engaged with most or all of our seminars. The readings and discussions on important aspects of international development helped the students think critically about the world around them. The seminar series on identity and social issues helped them think critically about themselves, which I think is very helpful for someone at such a transitional age. The two types of seminars were a really good combination.
Describe a time when you felt especially proud to be part of your current team.
I was particularly proud to be part of our team during our final week together in Washington, D.C. During our meetings with international NGOs, service organizations, and advocacy organizations, our students were engaged and thoughtfully asked questions of the presenters.
During this time, our students also presented their media projects, which they had been working on throughout the trip, with their friends and family. The projects often reflected diligent teamwork and the deep ways in which they engaged with their topics. They also thoughtfully considered each others' feedback in order to improve their projects. It was great to see the enthusiasm with which they shared what they learned with their friends and family.