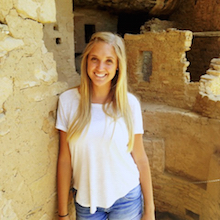 What is your favorite travel memory?
I was living in Kunming, China with a host family while we taught English in a middle school. My Mandarin was terrible and my host parents spoke no English either so our forms of communication had to be very creative. Every night my host dad and I would sit down after dinner and share a cup of tea. It was a lovely routine, however one night in particular we did something special. After finishing our tea, my host dad brought out his harmonica and started playing the song "Edelweiss". I started singing along with him and for the first time I really felt connected to these people. There are many different ways to communicate but music to me always creates very special connections.
What do you believe to be the biggest factor in being a successful company?
I believe that the biggest factor in being a successful company is heart. If a company doesn't have heart or some sort of morale that drives them to do what they do, then in the long run they will most likely fail. Companies that have heart and a genuine mission create a strong community that believes in and helps build them up. What is also important about heart is you can always know when a company has it. Whether you are an employee, customer or owner, the heart of the company influences every decision made. You can always feel it. My favorite jobs have been when I was working for a company who put their heart and mission first and let everything follow in after that. It makes a difference when you are working for people who really believe in what they are doing and are focused on making a positive impact on the people around them. Heart makes a company's purpose and mission pure.
How have you changed/grown since working for your current company?
I have only been working for Thinking Beyond Borders for a few months but have been a part of their community for years. I grew so much as a student on their program so when I was offered an opportunity to work for them as their Fellow. Since working for them I have become much more confident in myself as a person and educator as well as grown to understand people and the world. Thinking Beyond Borders creates an environment where I am encouraged to look for ways to improve but also feel supported and admired for the skills that I already possess. I have learned to challenge my assumptions, truly love the people around me and the effects of hard work. When I thought Thinking Beyond Borders could not give me more than they already had, I was given the opportunity to become their fellow, truly an alumni's dream.
What unique qualities does your company possess?
I believe that Thinking Beyond Borders really posses heart. I have worked closely with the entire home team and every single person cares so much about the organization and the students that participate in the program. We are a smaller organization so that gives us the opportunity to have a really tight-knit community of people who are all trying to take on the world and leave it a better place than it was the day before. Thinking Beyond Borders gives you the opportunity to travel and volunteer but with a greater purpose. This organization is solely focused on giving the youth of today an experience that opens their eyes to the world around them and empowers them to know that they can make a difference. This organization is very intentional and is run by people who care more about what they can give than what they receive.
Describe a time when you felt especially proud to be part of your current team.
A good amount of our scholarship money comes from our Alumni community and that includes not just parents but past students as well. In the fall they rallied together all of the alumni students and program leaders and asked for donations to the scholarship fund. In a short amount of time our alumni brought together enough money that actually succeed our goal. This money all came from poor college students and people who were just starting in their careers. In that moment I knew I was a part of something special. This organization runs a program that is so impactful and incredibly life changing that even years later, our students felt the need and desire to give back to the people who had given them so much. Our TBB community is strong but it is because the heart of this organization is stronger.