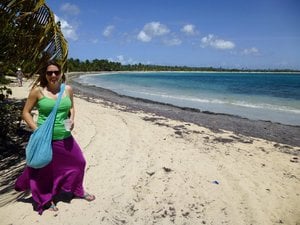 What is your favorite travel memory?
It's not a favorite, but this one is definitely memorable. My sister and I traveled to Brezova, Serbia and stayed in the small mountain town for several days.
With very little Serbian knowledge (read none), we agreed to join a group of locals on a hike...that lasted 8 hours. It ended up being a blast, but our post-hike beers were well-deserved.
Which destination is most underrated? Conversely, which is most overrated?
It's not overrated, but I'd like to go back to Austin. I enjoyed my time there, but I feel like I missed the sparkle that everyone talks about. Milwaukee is one of my favorite places. The food is obviously delicious and the waterfront is beautiful, but the people really make Milwaukee stand out. They are incredibly friendly, welcoming, and so much fun!
How have you changed/grown since working for your current company?
I've been here for 5 years and have witnessed incredible growth at Greenheart Travel. One thing I'm really excited about is the momentum of our alumni program. They are fantastic mentors for future and current participants and have better life stories than most people twice their age!
What unique qualities does your company possess?
Everyone who works at Greenheart Travel walks the walk. We're able to support our participants, because we have lived abroad ourselves and understand the challenges and rewards that come with it. We have empathy for our participants, which translates into the best pre-departure support in the business!
What is the best story you've heard from a return student?
We love keeping in touch with our alumni, so there are way too many stories to choose one. It's incredibly gratifying to see our high school alum get into their chosen universities; especially when they partially credit their overseas experience for their acceptance!