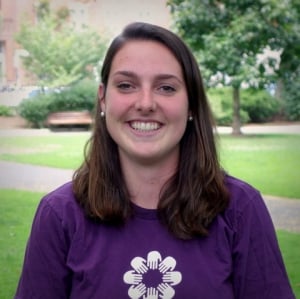 What is your favorite travel memory?
This is a hard question for me to answer, because I have so many fantastic travel memories. It is clear to me that my favorite travel memories have a lot to do with the people I met, rather than the places I saw. If I did try to pick one memory, I would pick a particularly beautiful night in Romania. United Planet's Romania project is situated in the Carpathian Mountains, a beautiful area. The sun was setting over the community I had fallen in love with, and I was so struck by its beauty. I had met and formed relationships with countless people over three months and made so many memories and connections. I will never forget the sunset over one of my favorite places in the world and favorite people in the world.
What do you believe to be the biggest factor in being a successful company?
There are many tangible, measurable, and quantitative factors in being a great company or organization. While these are important, I believe the biggest factor in being a successful organization is a bit more qualitative. When I think of the organizations that I love, I think about my personal experience with them. I think about both the literal and virtual face-to-face time I've had with the employees of that organization. Organizations that are welcoming, friendly, helpful, and really concerned for their clients are well on their way to becoming successful.
United Planet makes each and every one of our volunteers a priority, and I am proud to be a part of it.
How have you changed/grown since working for your current company?
This is my first job out of college, so I feel I have learned and grown so much in the past 8 months. My colleagues at United Planet have given me room to be an independent worker while also being there for support when needed. The team environment in the office has facilitated my growth and allowed me to become more assertive, self-starting, and communicative. United Planet is also a pretty small non-profit, which means that each staff member is given a lot of responsibility. This is amazing because it forces me to tackle the big issues, trouble-shoot problems as they arise. That's how we learn!
What unique qualities does your company possess?
I enjoy the fact that United Planet is not a very hierarchical organization. What I mean by this is that all employees feel that their voices and opinions are worth expressing and everyone is willing to hear them. It doesn't matter if you are an intern or have been at the organization for 10 years, everyone is valued, and I think this is quite special. Another unique quality that United Planet possesses is that the office is a very collaborative environment. While we do spend a lot of time looking at our computer screens, we also spend a lot of time working with each other to solve issues and come up with creative solutions.
What is the best story you've heard from a return student?
One of the best stories I've heard from a return volunteers was from a summer volunteer in Romania. At the Romania project, volunteers run a summer camp for the children. On the first day of camp the children were getting antsy because it was so hot outside and all of the planned activities were going to be too tiring. Then someone had the idea to look all over for all the plastic tarps and liquid soap the community had. After gathering the tarps and laying them down on the side of a huge hill, the idea for a massive water slide came together. After finding a long hose for the water, and pouring soap over the tarps, the 50 children spent the next three hours taking turns going down the water slide, laughing the whole way down. This was pure joy!