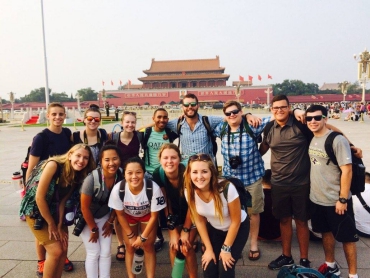 What is your favorite travel memory?
One of my most memorable traveling experiences was this past Summer working with ARCC. We were in Ecuador in a rural mountain village and spent the whole day working side by side with locals to build a new community center. After a long day, we started playing a big game of futbol in the village center with dozens of ARCC students and locals watching and cheering. After the game, we had a big community dinner, shared stories of home, and went to bed prepared to do it all again the next day!
Which destination is most underrated? Conversely, which is most overrated?
Southeast Asia is a really popular destination, but I feel it is still underrated because people feel like they can go spend 2 weeks in Thailand and get the full experience. There is so much to see! The concentration of different countries, cultures, destinations, outdoor activities, historical sites, and marine life is incredible. Each time I visit I'm amazed by how friendly the people are and how much there is to see!
In contrast, I think the most overrated destination is probably Australia. A great place to travel on your own and work in, but if you're going to fly all the way across the Pacific then I think it is a little too similar to the US for my taste.
What do you believe to be the biggest factor in being a successful company?
The philosophy of the staff and ownership in the culture they want to create and objectives they want to achieve. Some companies get too big and lose sight of the transformative experiences they offer on an individual scale. Money also can become a big motivating factor for others. I believe the best companies are able to put the same effort and heart into each trip whether it's their longest running trip in California or their brand new trip to a remote destination.
It is a philosophy that must permeate from the owner, to the office, and all the way down to the seasonal leaders. This is something I experienced firsthand and was so impressed by ARCC for accomplishing each day from training to trips and gap semesters!
What unique qualities does your company possess?
ARCC is unique in how involved every person at every level is with each trip and program. There is such a family vibe and mentality that starts with the owners who are present throughout training and execution of trips to the office staff who plan and oversee.
From day one, you feel like a family member of the ARCC community and that same mentality is passed on from the leaders to the students. You want each and every student to be proud to be a part of the culture, history, and family that has made ARCC so amazing over the years.
Every trip, employee, and student is equally important to the success of the company, and it is this ownership that each instructor brings and passes on to the students, which makes them feel even more empowered by the experience.
Describe a time when you felt especially proud to be part of your current team.
This past summer was my first staff training and I was nervous going into such a new experience. I arrived in California and was surrounded by 50 like-minded individuals with incredible leadership abilities, emotional depth, intellect, and positivity. I was inspired by every person I met from the owners, to the office staff, to other brand new instructors.
It was so empowering to find myself in that community for a full week of leadership training as we all developed and prepared together. We learned from each other, supported each other, and felt confidence that every leader was ready for the excitement and challenges that each trip would offer. As we finished training and began preparing to depart for our trips I felt this immense moment of pride to be a part of such a positive and supportive team and already knew I wanted to come back again and again!