What position do you hold at Middlebury Schools Abroad?
I've been working at Middlebury as the Associate Professor and Director of Middlebury School in Cameroon since the program started in the fall of 2012.
Working with students from American institutions in this new environment keeps me very busy as we work to understand their place in the world. This position is dynamic and challenging, teaching me new things all the time.
Why is language learning and cultural immersion important to you?
Language and culture are like two sides of the same coin and one of the goals of this program aims at helping students use French in everyday conversations. Immersion in the Cameroonian culture lends context to their language learning.
What unique qualities does Middlebury possess?
I enjoy the autonomy given to each of the resident directors to organize his or her own activities. At the same time, the administrative support from Middlebury's International Programs staff is perfect. I love getting to meet with other resident directors twice a year to share our experiences and learn from one another.
The Middlebury Schools Abroad are tailored to the needs of the students. The experience of language learning and immersion abroad is a real human adventure.
Our field trips to outlying villages showcase a rich and varied cultural history and our Language Pledge cements students' automatic French-language production in all situations.
How have you changed/grown since working for Middlebury?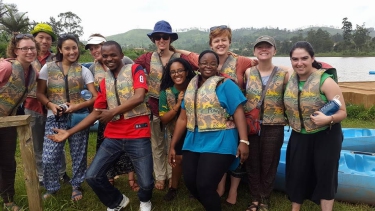 Working with Middlebury has brought me new perspectives. Learning about another culture forces me to ask some difficult questions of my own culture, and to understand different cultural perspectives.
Now it's become second nature to observe a situation and ask how the outcome might have been different in another cultural context.
Overall, Middlebury has helped me to be more patient and to better understand the concept of cultural diversity.