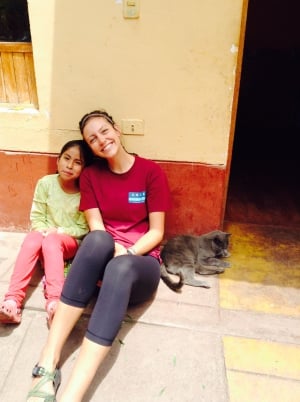 What is your favorite travel memory?
Margo's favorite travel memory was on Latin America Gap while traveling through Ecuador. For the Student Planned Weekend, her students planned a journey into the mountains of Ecuador to visit Lake Quilatoa, a picturesque caldera lake high up in the mountains. The students found an eco-lodge called the Black Sheep Inn for the group to stay at that provided all vegetarian meals, packed lunches, composting toilets, and rides up to the lake for hiking. The group did a seven-hour hike around the rim of the lake and then back through the valley to the lodge. Not only was it a fantastic weekend and wonderful place to visit, but the reason it is Margo's favorite is because the trip was completely planned by her students who worked together to figure it out and problem solve when they hit bumps in the road.
Which destination is most underrated? Conversely, which is most overrated?
The destination that Margo considers to be most overrated is Costa Rica. It is a wonderful and beautiful country, but it is heavily trafficked by tourists and as a result does not have as authentic or impactful of a cultural experience as many other places (particularly within Central America). Of the countries Margo has traveled to with ARCC, Ecuador would have to be one of the most underrated. It is a breathtakingly beautiful country that has mountains, desert, rainforest, and coastline, along with a rich indigenous culture coupled with big, clean, bustling and developed cities like Quito. It is also super affordable, and a must visit for anyone interested in Latin America!
How have you changed/grown since working for your current company?
The amount that Margo has changed and grown through working with ARCC is indescribable. She has grown as a leader and a mentor, and learned so much about who she still wants to become within this role. She feels lucky to have made such deep connections with the many teenagers she has had the pleasure of working with, and is very much looking forward to the many students she will have on future trips. Through this she has also learned to have more patience than she imagined possible, and learned to not be too hard on herself in this role. But most importantly she has had opportunities that she never could have imagined, and feels spoiled to be able to have her dream job.
What unique qualities does your company possess?
ARCC has a very unique vibe as a company, something that is rarely found in any industry. The thing that is so important and crucial to the success of ARCC, is that ARCC is a family. Every person that is a part of ARCC is made sure to know this fact. Once you are a part of this family, you are always a part of it. Being a small office, the staff is able to really get to know their leaders out in the field making sure no one gets lost in the shuffle as one could at a larger company. Margo has felt so supported by this community, and this is what makes ARCC an incredible place to work and the ideal company to be a part of. And above all, working for ARCC is an absolute blast!
Describe a time when you felt especially proud to be part of your current team.
Margo feels proud to be a part of this team every time a student comes away from a program with a changed perspective of the world around them, on life, or on themselves. Teenagers are given an incomparable opportunity to grow and learn on an ARCC trip, whether it is a short summer trip or an entire gap semester, a growth that some may not even realize until months after the trip has ended. But without them even realizing, their world is opened up and they have made friendships that last a lifetime. This is the impact that ARCC has on those who are fortunate enough to be a part of it, and it is a magical thing to witness.