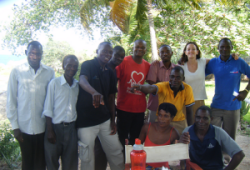 What is your favorite travel memory?
This is a very difficult question as the last few years have given me so many to choose from! One of my favorite memories from the projects was attending a HIV Support Group outreach day where members of the group were raising awareness of getting tested for HIV. There was lots of singing, dancing, drama performances and food shared. By doing this they were also trying to fight the stigma of the disease, an incredibly brave and inspiring thing to see in a culture where the stigma against this common disease is still a big problem.
What do you believe to be the biggest factor in being a successful company?
I believe the biggest factor in a successful company is having motivated staff that believe in the company's aims and share the same values and goals. More specifically to the volunteer travel industry, I believe the key to a success is understanding the context and cultures you are working in. This may seem obvious but this integration is often not achieved by western organisations working abroad. Naturally Africa Volunteers is led by Malawian project managers with input from western staff members to ensure we are working in the best interests of the communities we serve whilst also ensuring we meet volunteer expectations.
How have you changed/grown since working for your current company?
Living and working in Malawi has been a wonderful and insightful experience. It has given me the opportunity to really get to know a new culture and allowed me to understand what I have learnt from studying development and previous work experience in a new context. Malawi is known as 'the warm heart of Africa', people's positive attitudes here are contagious, anyone leaving will take this upbeat outlook on life with them.Working for Naturally Africa Volunteers has been a fantastic opportunity to interact with people from many different walks of life. The volunteers that come to our projects are a complete range of ages and nationalities; they come from a host of different backgrounds and have many different skills and experiences to share. Getting to know a lot of different people has given me great insight into different motivations to make a difference and how these can be best utilized.
What unique qualities does your company possess?
The defining quality of Naturally Africa Volunteers is that we put the communities we serve at the forefront of everything we do. The volunteer travel industry sometimes gets a negative reputation; so called 'voluntourism' is criticized for putting the tourism experience for travelers first, with the primary aim of enabling them to visit remote places under the premise of doing good. Before joining Naturally Africa Volunteers I held some of these concerns, I asked many questions in this regard and it soon became evident that the organisation was founded with values to provide genuine assistance to disadvantaged communities and was managed well enough to be able to do this.
Volunteers are well supported from the moment they arrive, we ensure that they are able to reach their full potential in their placements, immerse themselves in a new culture and have a fantastic time enjoying what Malawi has to offer.
Describe a time when you felt especially proud to be part of your current team.
One of the proudest moments I had was starting the I.T education programme. This was a project we worked on as a team from start to finish and seeing the results of this work and people benefiting from it was an amazing feeling.
This project involved creating an education centre in the community we work with to give people access to resources to improve learning prospects. Giving students access to the internet will allow them limitless educational opportunities and give an employable skill. It will equip them for independent learning throughout their lives.
After completing the building work, we installed the computers and invited local teachers for the first I.T lesson. Seeing the enthusiasm and how much they enjoyed learning about computers was uplifting and made the work we put into it all the more worthwhile.