What is your favorite travel memory?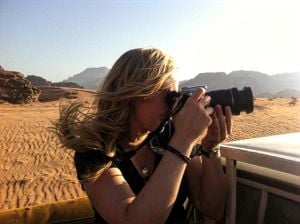 Getting up at sunrise to beat the heat for a hike to Hippos overlooking the Sea of Galilee. I'm an avid photographer when I travel, and still savor the beautiful snaps I captured on this day. We were windswept but happy after reaching the top and walking among the ruins there with our guide. The site wasn't being excavated at the time, so being there felt very intimate.
The cherry on top was the much-needed dive into the water to wash off all of the dust, followed by a delicious group dinner! There are few days where I can claim that I was truly carefree and content, but this was one of them.
Which destination is most underrated? Conversely, which is most overrated?
Forget Tel Aviv, if you're in Israel or the West Bank, try visiting Haifa or Ramallah! I have fond memories of steep hills and fried halloumi in both places. They're smaller cities with quiet character, spectacular views, and complex histories. I will give a shout-out to the unique metro system in Haifa, because it's something every traveler needs to try at least once. While in Ramallah, try and see if you can spot the lights of Tel Aviv and the Mediterranean Sea on the horizon.
I'm sorry, but I find New York City totally overrated. If it were my home, there would be opportunities to explore the far corners of the boroughs, meet the people, and eat the food, but as a visitor I felt overwhelmed by the crowds and loudness of it all. Definitely a place you should see with a local as your tour guide.
What do you believe to be the biggest factor in being a successful company?
Caring about the experience of both your participants AND your employees. Everyone who works at CIEE is happy to be a part of the organization, and that translates into a very deep desire to make sure our students and participants are as well. That healthy fostering of community is what generates company loyalty and spirit, which we have in abundance.
CIEE's success also lies in its commitment to hire people who have real experience in the industry and can connect with each other and the participants. You can call anyone at CIEE and they'll be able to chat about their own time abroad with you. Employees who genuinely love international exchange and travel is how our service remains top-notch.
How have you changed/grown since working for your current company?
Being around like-minded people who also love seeing the world and helping others has helped me gain confidence as a communicator and find professional direction. I come from a younger generation that is admittedly a little cynical about our job prospects. Finding an opportunity at CIEE has shown me that it's still possible to follow your interests and be happy with the work you're doing. We all have a shared mission, but find infinite ways to accomplish it. I never thought I'd be writing blog posts, coordinating TEFL classes, and learning about LMS platforms a year ago, but here I am!
Describe a time when you felt especially proud to be part of your current team.
It made my heart soar when I got to chat with a student who taught in Chile after taking our 150-hour course. She was working in a vocational college, and her students all had different motivations for being there. She ended up customizing all of her lesson plans to best reflect how they could use the English language according to their work. Knowing that our course gave her the tools she needed to be a compassionate, flexible teacher really solidified my belief that CIEE TEFL is doing excellent work to send great teachers out into the world.