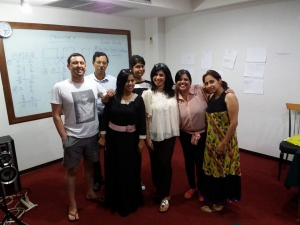 What is your favorite travel memory?
Although I have traveled to few countries in the world and immigrated too, however, till date my all time favorite travel memory is when I had visited Thailand in the year 2009. It was almost as if I was in love with that place instantly and secretly wished to work in Thailand. By God's grace, my dream came true through Asian College of Teachers. As TEFL trainer, my job demands traveling and training in different locations and I have been traveling to Bangkok on and off for the same. Exotic locales of Thailand, friendly and ever smiling people, amazing hospitality, unlimited variety of food and a paradise for the shopaholics, make my travels to Thailand an evergreen one, always.
What do you believe to be the biggest factor in being a successful company?
There are many factors that come into play in being a successful company. However, I believe that the biggest factor is innovation along with good marketing strategies. Although success, however we choose to define it, is a continuous work in progress. Most importantly, in a company where people work as 'WE' than 'I', it is creating more compelling and enriching future.
How have you changed/grown since working for your current company?
I have not only changed but also grown since working for Asian College of Teachers. Changed in terms of being more confident, efficient and most importantly in skill building. Definitely I see myself to have grown as an effective communicative trainer and people's manager, from what I used to be fours years back.
What unique qualities does your company possess?
The leadership team of every good company has a great ambition for the company. Asian college of Teachers (ACT) offers the same, meet customer needs, relentless attention to execution (not only the products but in customer service too) and offers flexibility to all its employee, which makes ACT a great place to work for.
Describe a time when you felt especially proud to be part of your current team.
There is not a time where I felt proud to be a part of an efficient team but quite a few moments where I have felt the same. To be able to recognize employee's talent and efficiency is culture and a ritual that is effectively practiced in ACT. Whenever my hard and smart work have been appreciated, it goes without saying that it has simply boosted my self confidence, helped further to speed up my efficiency and planted the seed to learn and grow more.
What is the best story you've heard from a return student?
The best story so far what I have heard is when a student claims how ACT has touched its life and has helped to transform. The best of the best part is, when a student expresses to be a part of ACT as an employee or to work as a partner.