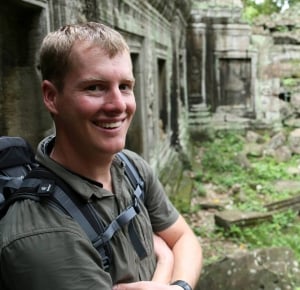 What is your favorite travel memory?
My favorite memory last year was watching 3 of our students and a field advisor cross the finish line after a 30 kilometer race through Angkor Wat in Siem Reap in Cambodia. This wasn't a part of the Winterline program, but was a piece that a few of the students decided to do to challenge themselves. They had run and walked through the ancient Angkor Wat ruins, through farmland, and jungle, and came across the finish line with huge smiles. Winterline gives students amazing programed activity, but then also gives students the opportunity to explore and look for challenges on their own. The areas the program travels through are truly amazing and it was great to see these student's sense of accomplishment and adventure.
What do you believe to be the biggest factor in being a successful company?
The biggest factors in the success of Winterline as a company has been the people that are involved. This includes staff who live and work all over the world and have created programs that are experiential and fun, but also students from different backgrounds that are willing to take on the challenge of traveling to 10 different countries in 9 months. I believe connections with people and the passion they bring is what makes travel experiences great.
How have you changed/grown since working for your current company?
It has been great to work for Winterline and be creative in coming up with new skill areas for students to develop. Now as I travel on my own, I am always looking for new things I can learn how to do or that we can use with students. I love to always be looking for new things and I think working for Winterline has allowed me to take on the perspective of the learner more often which expands my life in so many ways.
What unique qualities does your company possess?
Winterline is focused on practical skills that students can learn. High school and university can tend to focus mostly on academic knowledge, but with Winterline students learn how to DO things. Students learn how to sew clothing in Phnom Penh, learn how to repair a bicycle in Siem Reap, or create a film in Bollywood (Mumbai). These are all practical skills that lead to students feeling more capable in their lives after Winterline, but also they are learned in a context of exploration in amazing new locations and meeting new people.
What is the best story you've heard from a return student?
In addition to all of the practical, hands-on skills students develop, they also have one week in India to choose between a few different programs that focus on skills of self-care. They are able to choose a Vipassana meditation course at an organic farm, an Ayurvedic cooking program, a week of meditation and yoga at an ashram, or a dance therapy program. Last year one of the students who was having a tough time in India, came back from the week of self care and had a new energy for life and for the program. She said she was able to learn an entirely new set of skills through the program of learning to take care of herself. This sense of excitement and usefulness of a new skill is exactly why we run this program.