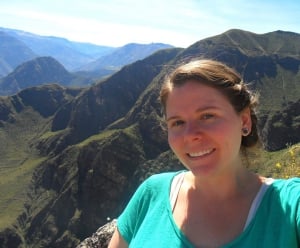 What is your favorite travel memory?
My favorite travel destination is Tomepampa in Cotahuasi Canyon where one of our projects is based. I fell in love with this place the first time I visited and am lucky enough to get to go back every month or two. My favorite (or scariest) memory from Tomepampa was during their October festival. A group of friends and previous and current volunteers went out to celebrate. One part of the festival is a bull fight. This was not my favorite memory, but it was an interesting part of the culture and since they don't kill the bulls, just run away from them, it was alright to watch. After the bull fight it is tradition to go into the bull ring and dance with the band. We were all encouraged by the locals to have a dance, so we joined in. Unfortunately, someone didn't close the door all the way and one of the bulls got out. It was the most terrifying moment looking behind me to see a giant bull bucking and running. I could not think, my legs just moved as quickly as they could. We were all so shaken up after, but everyone lived to tell the tale.
How have you changed/grown since working for your current company?
I have really learned how to be flexible and patient working with Volunteers Peru and in the country context of Peru. Making plans can be quite difficult in Peru, and being in charge of an organization that supports two different projects has its challenges. However, after understanding fully the context and culture in which I was working, I have been able to adapt by being more flexible and easygoing. Before I would have been disappointed if plans fell through or changed, but now I am more able to go with the flow and enjoy whatever is happening at our projects, even if it is not what we had originally planned.
If you could go on any program that your company offers, which one would you choose and why?
Although I truly love both projects we support, I would choose to go to Colegio Honofre Benavides as a Support Teacher. It is such a wonderful project, location and community. I am always jealous when I bring volunteers out to the school. The students and teachers are so wonderful and really love to learn from our volunteer teachers. The location could not be more beautiful and tranquil, as it is the deepest canyon in the world. There are many wonderful hikes, trips and natural thermal hot springs and when visiting the higher villages, you really feel like you are on the top of the world. The community is very welcoming and always excited to have new visitors. It is a really rare opportunity to see what rural Peruvian life is like, many Peruvians have not even visited this remote and spectacular location.
What makes your company unique? When were you especially proud of your team?
What makes Volunteers Peru unique is that we support projects rather then run our own. Many NGOs run their own projects, but supporting existing institutions is another way an NGO can make a positive impact on a community.
I was especially proud of my team when we recently hosted a school exchange between the rural school we support in Peru and a private school in England. We had a wonderful cultural exchange with events put on by the school and the parents of the children who will go to England next year. Our team did so well bringing together both groups and all of the events were so fantastic, it was really a special once in a lifetime experience and we are looking forward to going to England next year!
What do you believe to be the biggest factor in being a successful company?
I think being adaptable to change makes a nonprofit organization successful. In Volunteers Peru, we have a lot of different needs to look after. First are the people in our projects: the girls and staff in the Casa Hogar Torre Fuerte and the students and teachers in Colegio Honofre Benavides. Next, but equally important, are our volunteers. To be able to meet the needs of the many people we work with every day, we need to be flexible and adapt to the changing people and personalities that we work with. Furthermore, if an organization is very rigid, then it will not be able to learn from past mistakes and grow from them. Every organization should constantly be working to adapt and change for the better.