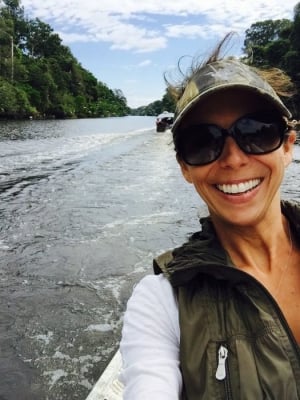 What is your favorite travel memory?
I love to travel with my husband and two small children, especially to the jungle. We recently traveled to Tarapoto, the cloud forest or high jungle plateau, located northeast of Lima. My children were able to see first hand the work my husband does directly with sustainable farming.
All that we try to teach them regarding the vast variety of natural products and their nutritional values came together at that moment when they saw the polyculture farmlands with cacao trees next to the sacha inchi plants, and turkeys walking freely next to their dogs, chickens, cats, and other animals. In my opinion, there is nothing better than getting out of the big city for a few days to breathe the fresh air of the jungle!
How have you changed/grown since working for your current company?
I specifically sought out ISA in Austin not only because I loved the city, but my ultimate goal was to serve as an example of a non-native speaker becoming comfortable communicating in Spanish and be a positive influence, motivating other U.S. students to live abroad at some point during their undergraduate or graduate studies.
After my own life-changing experiences and struggles abroad during semester programs in France and Mexico, I was determined to work in the study abroad field and be a part of this process for future study abroad students.
Believe it or not, it´s been 18 years since my first day at ISA, and I can happily say I have fulfilled these goals!
What is the best story you've heard from a return student?
Whether they fall in love, get married to a local or simply miss their new friends and lifestyle in Lima, I see a large number of ISA alumni return to Peru every year. They often stop by our office to reminisce and catch up or just ask us for advice. Some of them return to the U.S. with their Peruvian significant other, and several have sent me photos of their precious children! What brings a smile to my face most is when I see my students continuing to choose volunteer, service-learning, scholarship, and teaching abroad opportunities after their ISA study abroad or ISA Service-Learning programs.
If you could go on any program that your company offers, which one would you choose and why?
I would definitely choose the ISA Fiji program, or somewhere in Asia / South Pacific mainly because I love the ocean, warm weather and being close to Mother Nature. If I had not chosen to study International Business, I think Marine Biology would have been a good direction for me. And with the exception of an incredible, unforgettable three-week work trip to Australia, I have not spent time in that region in over 15 years. Finally, I am a big foodie and lover of all things yummy, so I would love to try all of the delicious cuisines.
What makes your company unique? When were you especially proud of your team?
The ISA team has always had what´s best for the student at heart from the very beginning. I loved recruiting at U.S. universities because I could speak with students face to face to get a good feel for who they were as individuals. Based on these unique encounters, I would recommend a program location and I always felt confident that the student was going to receive the best service possible while abroad.
I know that living abroad is not an easy road, but I also knew they would have the support system in place through ISA if they needed it.
Now that I am on the receiving end and I work with students who are studying or participating in service-learning in Lima, I work with students on-site and I can watch them grow as individuals and continue on in life to do great things for the global community.
What do you believe to be the biggest factor in being a successful company?
Although the company has grown tremendously, ISA has been very careful to continue offering personalized services through carefully trained U.S. staff. Plus our resident staff on the ground go above and beyond to help students become independent, global citizens who are more aware of world issues and have a better appreciation of life in general.