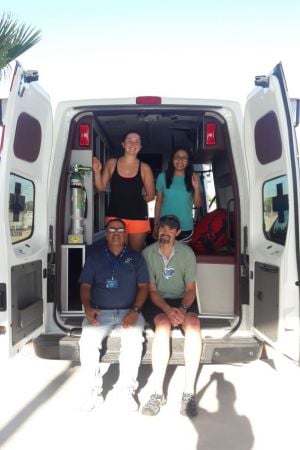 What is your favorite travel memory?
I have learned so much from our volunteers that have traveled to serve with us in Puerto Peñasco. I find a lot joy from the volunteers that come form the United States with such different background and cultures. Chinese, Indian, African, and Middle Easter, just to mention a few. I learn so much from their culture that I feel like I have traveled to their native lands.
How have you changed/grown since working for your current company?
Since working with ISL, I have grown in many ways. Conducting home visits has helped me to see and appreciate the strength and humility of my community. Despite many economical problems, they don't give up and they strive to live with integrity.
I have also learned from our young volunteers. They are willing to leave their comfort zone to come and learn, share, and help perfect strangers. They are willing to open their hearts to others and share their wealth in knowledge, love, and compassion. This has helped me to learn from my community and our volunteers to check myself and my values to see if I'm living life in a productive manner.
What is the best story you've heard from a return student?
One of my favorite stories is from when we were doing home visits and a volunteer noticed that many of the women we were surveying had high blood pressure and were taking the same medication.
The volunteer that noticed this had recently done a research paper on the same medication the women of the community were all taking. She had learned through her research that this medication had some of the side effects that our patients were demonstrating. She shared this information with our local doctor and he in turn explained why this medication was given to them in the first place.
The medication was free in our health system so that is what our patients get. The doctor in our clinic took the volunteer's findings into consideration and prescribed a different medication to the patients that didn't have the same side effects. This was a great example of team work between a volunteer and a professional working together for the benefit of our community.
If you could go on any program that your company offers, which one would you choose and why?
I would like to visit Tanzania to experience their culture. I would like to see how ISL serves in a totally different environment than I am used to.
What makes your company unique? When were you especially proud of your team?
ISL Baja is unique in many ways. We are next to the U.S. and we have unique cultural and medical situations that are not found in any other country. We intermix our language and our customs in many ways.
ISL volunteers leave with a positive impression of Mexico and a better understanding of our health system. Our local communities learn from our volunteers' commitment to learn and share throughout the world. They also develop a better understanding of our neighbors.
I was especially proud of one of my teams when they met a family whom they helped start a project of installing a bathroom in their home and even after the project was done, our team decided to spend time with the family and bought them groceries out of their own pocket.
What do you believe to be the biggest factor in being a successful company?
The biggest factor in having a successful team is having an open heart and an open mind. We can plan and organize but if we, staff or volunteers, don't have an open heart and mind ready to learn and give or serve, then all of the planning and organizing won't make a difference.