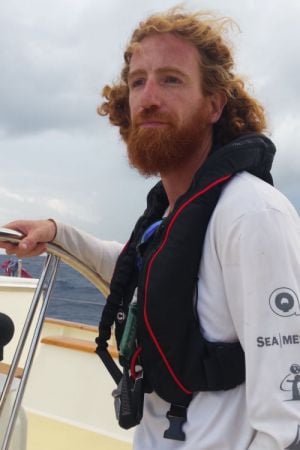 What is your favorite travel memory?
I always think back to the first time I sailed across to the Pacific as a crew member onboard a 72ft ketch. It was not traditionally rigged like Argo but very basic by today's yacht standards and so required a relatively large crew.
Up until then, I had mostly travelled on my own. That trip showed me what a real team was, what it could achieve, and changed my whole perspective on what was important to me.
How have you changed/grown since working for your current company?
The best thing about Seamester is that whilst we obviously do a lot of sailing, visit amazing places, go diving, learn about the environment immediately surrounding us in class, go hiking up a volcano, or horse riding, or surfing.... this is actually a small part of what we do.
What we do most of the time is live with 30 other people who all rely on each other. That means we get to know each other incredibly well and build the kind of relationships where differences are valued.
That trust and respect means that people open up and allows us all to learn from each other. I learn something new on every trip.
What is the best story you've heard from a return student?
They want to come back a third time!
What makes your company unique? When were you especially proud of your team?
The best thing about Seamester is that the students and staff work together as the team. The 90 day trips allow the staff to take on much more of a facilitative role with the students taking on more and more responsibility until they are running everything from the planning and preparation of feeding 30 people to the safe navigation of the vessel.
I am always amazed at how students can learn so much in 90 days. Most students have little to no experience doing what we do when they join the vessel and most know no one else on board. It was great to win our class in Antigua classics last year as it really reinforced not only how they had become fantastic sailors but also how strong a team they had become in the last 3 months.