What is your favorite travel memory?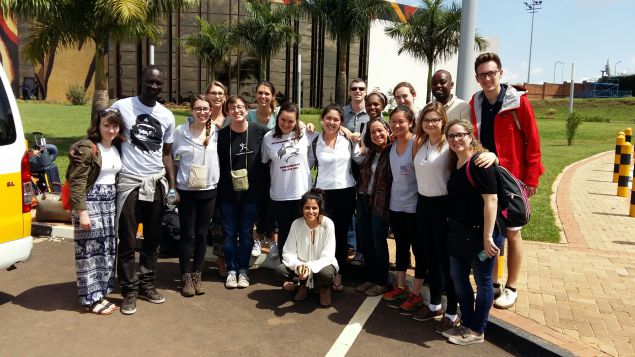 I believe that each journey helps me to interact with people I visit, thereby changing my life's perspective.
My favorite travel memory was with a delegation of Helping Babies Breathe trainers in Rwanda. We were visiting one of the hospitals in the countryside and we entered the Neonatal Intensive Care Unit (NICU). One of the delegates saw a new born baby who needed more attention and she automatically began talking with and advising the nurses on how to improve the baby's health condition.
After the visit, we found ourselves in a long positive discussion about the case. It really touched my heart to see how each and every one of us can make a difference wherever or whatever the situation is that we are facing.
How have you changed/grown since working for your current company?
In my daily work, I have this great opportunity to meet and talk with different people from different backgrounds and nationalities. This has changed my way of working significantly. I learned to work with a client's high expectations, hence providing the best service.
The fact that GEI offers different programs gives me a chance as an employee to explore and get to know new topics that one would not otherwise think of working on.
What is the best story you've heard from a return student?
The story is not from a student but from a university delegation leader who is a professor. He told me that he gets new great information about Rwanda's country development each time he brings a delegation of students. Rwanda has become his second home and he will always be a Rwanda Ambassador everywhere he goes. He further said: "It is so varied and interesting that I can affirm that it is the best experience in my life."
If you could go on any program that your company offers, which one would you choose and why?
I have worked more and more on the Helping Babies Breathe program for the last two years and I believe that this program is well designed for this part of the world, where there are often limited resources and skilled health personnel. I really enjoyed the way local health personnel were engaging with the trainers during trainings. They learnt new technics on how to resuscitate a new born and were committed to practice it while on duty.
What makes your company unique? When were you especially proud of your team?
GEI is a bridge between professionals, students and local hosts.
The company is unique, in that it empowers both sides and engages them to share professional experiences and skills on impactful short-term abroad programs.
Information sharing within the team (international and local team) from the pre-program preparation to the post-program evaluation has been one of the keys to the team's success story. The flexibility and commitment of each employee to make each program meaningful is something that makes me especially proud of our team.