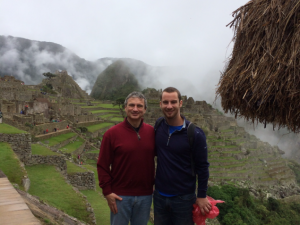 What is your favorite travel memory?
I am very fortunate to have been able to travel to many incredible places. In terms of warm people and spectacular settings, I think I'd declare a tie between Santorini, Greece and Machu Picchu, Peru.
Never have I been so relaxed nor seen water as blue as in Santorini. There are also few views more spectacular and commanding (and kind of frightening) than that from Huayna Picchu of the "Sacred Valley" and the Macchu Picchu ruins below.
However, I think my most special travel memory is of visiting Slovenia - the country where my grandparents immigrated from - for the first time. In one trip, I was connected with a whole different side of my family that I knew of but had never met before. To stand in the mountain valley, in front of a small house that my great-great-great-grandfather had built a century and a half earlier was surreal. There is a unique feeling of pride that comes from connecting with one's roots.
How have you changed/grown since working for your current company?
Man, where to begin? One of the challenges - and ultimately, positives - of running a small business is that you have to be familiar with all aspects of the company. For me, as a history graduate with little to no business background, working with Road has taught me many different skills: from sales and marketing to basic accounting; from event planning and execution to even some basic web design.
It's given me an incredible opportunity to hone my Spanish skills through relationships with our internship partners, volunteering placements, and housing hosts. However, one of the things I've enjoyed most is that being part of a small company is that your success is tied to your work ethic, perseverance, and ability to overcome your weaknesses.
My year with Road has made me a more efficient worker, a more self-reliant decision-maker, a better listener to others' points of view, and more responsible given the fact that the quality of and dedication to my work directly affects our participants' experiences. There is always room for improvement, but so far it's been an incredible opportunity and growth experience!
What is the best story you've heard from a return student?
What makes working for Road so rewarding for me are the people it allows me to meet, spend time with, and introduce to this incredible city. We have so many well-rounded, talented, and fun to be around interns, volunteers, and TEFL students.
However, maybe my favorite part of the job is seeing these people push themselves beyond of their comfort zones. Really, I think that's part of, if not the greatest, value in spending time abroad. I've watched Roadie after Roadie struggle with and overcome little daily challenges. I've watched them dive into another culture and reevaluate their own beliefs, values, and where they come from.
I mentioned self-reliance in the previous question as a quality I have honed working for Road, but I also think it's the number one skill our Roadies develop during their programs with us and take home with them afterward.
If you could go on any program that your company offers, which one would you choose and why?
For me, this is kind of a funny question given that I once was a Roadie. I came to Argentina to do Road's CELTA certification course and taught English for nine months before joining the company in a program coordination and marketing role. However, it's interesting to consider my answer to this question now, given my year or so now of work with Road.
While I like to think that Simon, my co-worker, and I are two up and coming entrepreneurs; we are dwarfed by some of the owners of the startups that we send interns to. I think I would choose to intern with either Increasecard or BandTrack, both led by some of Latin America's leading entrepreneurs.
They are in the payments and music industries, respectively - distinctly different from Road's structure and purpose - but, for me, the exposure to highly successful and growing startup environments like theirs would be invaluable to any aspiring entrepreneur, as would the experience of working alongside Sebastian or Juan Pablo, each a co-owner of the respective firms.
What makes your company unique? When were you especially proud of your team?
At Road, the goal is to immerse our participants in Spanish language and Argentine culture as much as possible - from their internship or volunteering placements, to their housing, to the cultural events that we run each week. However, what makes us special is a phrase I like to use that we are "a participants' program."
What I mean by that is that we genuinely care about and are proud of our Roadies, past and present. The focus is always on them before all else.
Each year we have three primary cycles in terms of when people do their programs: the winter/spring semester, the summer, and the fall semester. It's always rewarding to watch each group come together, to see them work on their Spanish (and master it in some cases), to see them immerse themselves and fall in love with Buenos Aires and Argentina.
There is no greater feeling than watching our students take advantage of their opportunities and programs, ending them wishing only that they could stay longer.
What do you believe to be the biggest factor in being a successful company?
Persistence; at least from the perspective of an owner or coordinator. There are many factors that shape whether a company succeeds or struggles, but it's difficult to peg one more important than persistence and it takes on many forms.
You have to be persistent about learning as much as you can and at all times. You have to remain open to advice, most importantly when it comes in the form of feedback from your participants - both about things you do well and things you could do better.
You have to stay persistent in your drive to improve and in your convictions and aspirations in the face of adversity and others telling you it can't be done. I genuinely believe that persistence is what separates the great leaders and entrepreneurs from the good or average ones.
It's also something that I think both myself and others struggle with constantly, in many aspects of life. However, at the end of the day, it's the key factor to bringing about meaningful satisfaction and success.