What is your favorite travel memory?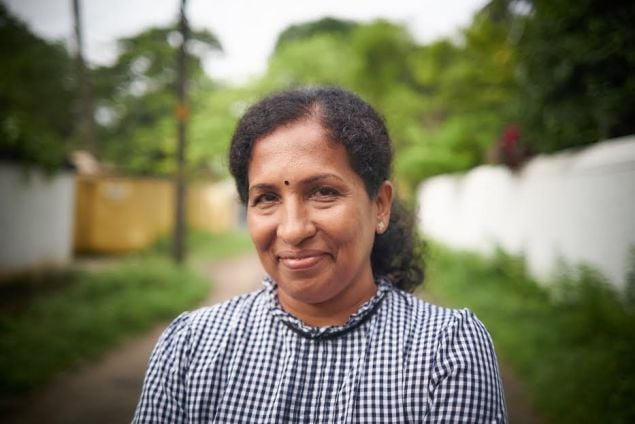 My favorite travel memory is from a visit to Munnar, travel memories become eternal when you visit places like this. The beauty and the quietness fill up your heart! The climate also is very good.
The loveliest hill station in Kerala is Munnar. It has its own natural wealth and greenery. It's a romantic destination for all the tourists. The local people are very innocent and loving. I have visited Munnar several times, and each time I fall in love with the beauty of the place. I am sure I will go again!
How have you changed/grown since working for your current company?
I have changed tremendously. My perspective has changed after working here. I have become more positive and open. Here I am able to help a lot of people who deserve it. And I am able to interact with kids a lot, which is the most attractive part of my job.
Definitely I have grown also. Now I am dealing with a lot of people from different countries around the world, which gives me a chance to know different cultures, and different feelings and attitudes, and it makes me even stronger and passionate.
Though I learnt from my father to give rather than take, these people have shown me a better way to give to those really in need. And Ridhi Patel, our Director has really enlightened my life through her passion and experiences.
What is the best story you've heard from a return student?
The story from a volunteer who said she was really influenced by my love and care when she was here. Her name is Paula Dhanda and she is from the UK. She came to volunteer last December, and to celebrate her 50th Birthday. She didn't know how to do it, so I planned ahead with my team and provided a fabulous celebration for her.
I came to the volunteer house at 6 am to wish her happy birthday, gift her our present, and take her to the church. Then we celebrated the cake cutting and birthday lunch at GHS Mattancherry, which is her most favorite project, and course all of ours too. We had dinner at the boys orphanage, which is another project.
I left her at the volunteer house at night and then went back to my home. She felt so surprised and happy because I spent so much time to make her birthday memorable. Actually, I was not sure that I did a great job, because I am always happy to make others happy. I try my best to go out of the way to help the volunteers because they serve so much for my country and the local people who are the most in need.
She was so sad to leave us and our friendship continues. She said I am the kindest person she has ever seen, and it really made my time worth it, and gave me a lot of confidence.
If you could go on any program that your company offers, which one would you choose and why?
Anything related with children because I love them. I believe that children are the most precious gift from the Almighty. Most of our projects are with the schools and children.
If we can give children the best we can at the early ages they will definitely become the best human being possible.
These students come from low class families and they are away from the colorful world of life. Most of them do not have their own house, and if at all, they live in a room which is used as a room for everything. In one room they have to eat, cook, and sleep.
They have no space to play or sit to study. Most of them go out to the streets to play and they mingle with bad people and learn bad habits. So it is a gift for them to have education and some space where they could spend all their day time.
The government provides them free education and lunch at the school. But there is a lot of other things that they are still in need of, like the books, uniform, and the fee for the school bus, etc. Most of the parents are not able to meet all of these needs. This is where the importance of institutions like Volunteering Journeys comes in.
We try our best to provide them the things they need, and we arrange money for the tuk tuk that they take to school and back. We are able to do this because of the volunteers. A portion of the fee they pay goes to this purpose. So when they plan to come a lot of kids are benefitting. I do want to spend the time with the kids, It gives me a lot of positive energy and they just give you back what they are given. They make me happy.
What makes your company unique? When were you especially proud of your team?
We are genuine. I felt really proud when one volunteer compared us with another company and said that we are very genuine and caring and are unique. She said the time and money she spent is worth and wants to come again and again.
She felt each and everyone in the Kerala team were great. I felt really proud at that time, and it is the feeling of almost all the volunteers. We all go out of the way to make them happy and I feel this makes our company unique.
What do you believe to be the biggest factor in being a successful company?
The unity of the team. I lead the team in Kerala. I think I have a GREAT Team with me and we have the best projects and programs in Kerala. It wouldn't have been possible if the team spirit was not there, we really work to fill each other's roles when needed.
Our local coordinator, Midhu, does all the things to co-ordinate the projects,housing, and everything necessary. When I am not there she takes charge and does all the things required at the projects so that the volunteers do not feel my absence. Our chef, Jessy cooks so fabulously that every volunteer falls in love with the food we provide. She really contributes a great place in the team.
The tuk tuk driver, Sakkeer plays an important role in the life of the volunteers when they are here. He takes them places in the tuk tuk and shows them around. All the important locations are shown to them and he showers his love by treating them with local snacks and masala tea.
The taxi drivers who pick up the volunteers from the airport are the first ones they meet as our representative. So their role also is very important. Luckily we have a great group of drivers like Rajan, Simon, Martin and Jose.
We all as a team stay united in every way and form a great team which I believe is the basic factor behind our success. And above all we have our awesome leader like Ridhi Patel as our director. She is the great motivator for all of us!