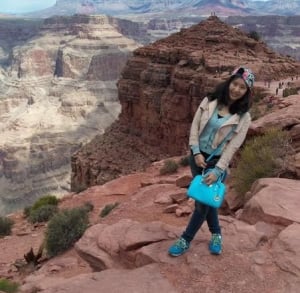 What is your favorite travel memory?
My favorite travel memory is my first Thanksgiving holiday in the United States. My friends and I went to Orlando and Miami. Universal Studios has a lot of entertainment relevant to movies. It has a lot of roller coasters and I really love roller coasters. Disney is always a child's dream. It reminds me of my childhood and made me feel like I could be that little girl again.
How have you changed/grown since working for your current company?
That's definitely YES. I have learned many skills that I didn't have before and even know some things that is not in my area. New things are always interesting.
Besides, although I have worked in U.S for about half year, it really didn't require me to speak a lot. Right now, I have to communicate in English with everyone in the office and it's great practice for my language skills.
If you could go on any program that your company offers, which one would you choose and why?
I would want to stick with the program I'm currently working on. I can learn new knowledge in several different areas, which is something I had no experience with before.
It's a great thing to take in as knowledge as possible at this age, and I expect challenges everyday. Every time I solve a problem, I feel I am growing and developing myself.
What do you believe to be the biggest factor in being a successful company?
I think the biggest factor in being a successful company is great team work. A friendly environment can give people positive motivation to work. If you get along well with your team, you will have good morale during work time.
In addition, when a company comes across difficulties, a great team can come up with various suggestions and will solve the problem together.