What is your favorite travel memory?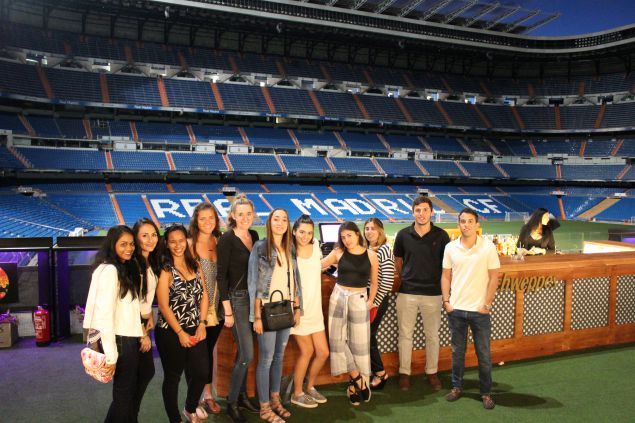 My favorite travel memory repeats itself every year when I take students to see the Sagrada Familia in Barcelona. The expressions of awe on their faces when they first see Gaudi's finest and most emblematic work is remarkable.
How have you changed/grown since working for your current company?
I designed Voyager Study Abroad Programs to immerse students in the art, history and culture of the cities we visit. I included walking tours in every city, visits to the most important landmarks, professional and cultural activities that are unrivaled.
I learned last summer, that you can do too much. We visit many cities in 30 days. I didn't want the students to miss anything in any of them. I wanted them to make the most of their time abroad. I changed my mind a bit - this is great for some students, but others need time to relax, unwind and to explore the incredible cities we visit on their own.
What is the best story you've heard from a return student?
I have heard from many students over the years that our programs have changed their lives. Over half our students from two years ago, joined us again last year. Our students become like family and stay in touch with each other and also our professors and staff. There is amazing camaraderie during and following our programs.
If you could go on any program that your company offers, which one would you choose and why?
I have been managing study abroad programs in Europe for many years and have been to all the cities on our Voyager Europe and Voyager Spain itineraries multiple times. I have my favorite cities, but will never tell.
This summer, I am looking forward to Voyager Cruise. It is amazing, but I have never been to Rome and am also looking forward to all the Ports of Call on the eight day cruise. I haven't been to Athens for a few years and the Greek Islands are all fabulous in their own way.
What makes your company unique? When were you especially proud of your team?
Voyager Study Abroad Programs are unique in many ways. We have unrivaled itineraries and offer a complete cultural immersion experience. The important cities we visit enhance our one-of-a-kind classes and at the same time, our classes enhance the students' study abroad experience.
We are experts at multi-country programs and unlike any other program, from the first day until the last day of our programs, our students make themselves at home in a modern air-conditioned university residence with private bath and Wi-Fi. Each room is equipped with a refrigerator and microwave. In Madrid, students are served breakfast and dinner at the residence daily and have unlimited access to the on premises fitness center and outdoor pool.
We spend most of the time traveling and all travel between cities by plane or high speed train. All overnight stays outside of Madrid are in highly-rated four-star city-center hotels. Students receive buffet breakfast daily when not in Madrid.
Our professors and staff travel with the program and participate in all program activities. They are available 24-7 to ensure that the study abroad experience is a life-changing one.
No other program offers as many city-specific and class-specific program enhancing cultural and professional activities as we do. We provide our students a summer like no other!
What do you believe to be the biggest factor in being a successful company?
I really haven't figured this out yet. I think we run the very best multi-country programs in Europe. We don't spare any expense in ensuring that the student's study abroad experience is beyond compare.
We provide an excellent vale, including much more than any other program at a reasonable price. Despite offering much more we charge much less than our nearest competitors. So far, if you measure success of a company in terms of profit, we have a long way to go. if you measure success in terms of customer satisfaction, we are well on our way. Honestly, we wouldn't have it any other way.