What is your favorite travel memory?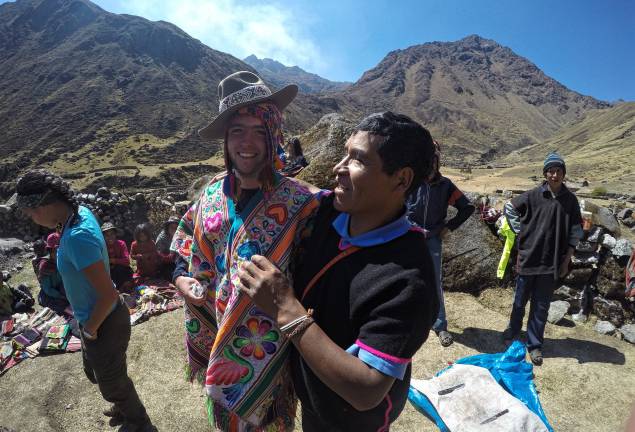 In the high Andes of Southern Peru we often visit a collection of remote communities with close ties to their Incan ancestors. Favian and Patricia, have invited us to these mountain communities for years and have showed us the traditions and and customs of this special place.
Before dawn on a crisp morning students emerged one-by-one from the stone walled and thatched roof homes of the community. Favian led us up the valley surrounded by towering snow capped peaks and and frequent cascading side streams that cut through the rugged landscape.
As we reached a ridge at sunrise the clouds were beginning to build miles below. We could just make out the verdant expanse of the Amazon rainforest that stretched past the horizon for endless miles.
Favian led us in a traditional ceremony while the clouds billowed up around us from the Amazon below and the snow capped massifs hugged our backs. The immense beauty and the connection to the people we experienced that day was unforgettable.
How have you changed/grown since working for your current company?
Dragons has helped me reconnect with my passion for education. As a classroom Spanish teacher I enjoyed relating to students and communicating the importance of travel and interacting in languages other than English.
With Dragons I am able to live what I teach and continuously expand my knowledge of cultural diversity and local environments.
What makes your company unique?
What makes our programs special are the years of experience and personal connections our instructors have cultivated in these areas.
Dragons puts so much intention and care into the creation of our courses and it is important to select the course that is right for you. Someone who wants to live in a Buddhist monastery in Tibet may not be as fulfilled if he/she ends up spearfishing for dinner in an island community in Indonesia.
Often students and families know of a particular highlight in an area and they choose a program based on that attraction, i.e. Machu Picchu. However, by the end of the course I seldom find this attraction to be the highlight of a student's experience.
Rather, students most often remember spending time with the host family helping to make fresh cheese after milking the family cow. A trip to Machu Picchu brings up essential development questions that are important for connecting historical events with current social conditions. However, I believe Dragons true focus is to seek to create authentic connections with communities and environments over place based tours.
If you could go on any program that your company offers, which one would you choose and why?
I would love to go on the "Life Along the Mekong" semester. I have spent years rafting the waterways of the Colorado River and interacting with communities that rely on this powerful force.
While in South America I also teach students about the importance of the Amazon River and its tributaries and the dangers facing local ecosystems and communities. I would love to explore this area of the world, study the similarities of these river systems and hear the stories of the people that live along its banks.
What do you believe to be the biggest factor in being a successful company?
With over 25 years of running global education programs, Dragons has developed an extensive network of in-country contacts. These are the people that make our programs special. Dragons offers extended homestays and local mentorship for independent study projects. They offer students the unique ability to truly immerse in that culture and live as locals do.
Our instructors have extensive knowledge living and working in these areas and provide experienced mentorship as students navigate unfamiliar cultural settings.
Instructors collaborate with each other to create a unique narrative for each course that incorporates the specialties and passions of each instructor. This ensures that each course has its own character and students will be able to connect with the course on a deeper level.
What is the best story you've heard from a return student?
I like to spend a few moments each day to peruse the Field Notes board on our website. This is a blog that is a collection of stories and photos from our courses. I have never been to Southeast Asia so I love to hear about student experiences and try to imagine myself on course with the group.
One day I came across this field note from a student on our "Life Along the Mekong" semester. She beautifully weaves together imagery of a normal day in Luang Prabang, Laos. The sights, sounds, and smells of the market jump off the page and I am instantly transported to the meandering streets.
Her story is a reminder of the profound questions that arise for students on what may seem the most ordinary of everyday experiences. Take a moment to check out this section of our website and hear her story!