What is your favorite travel memory?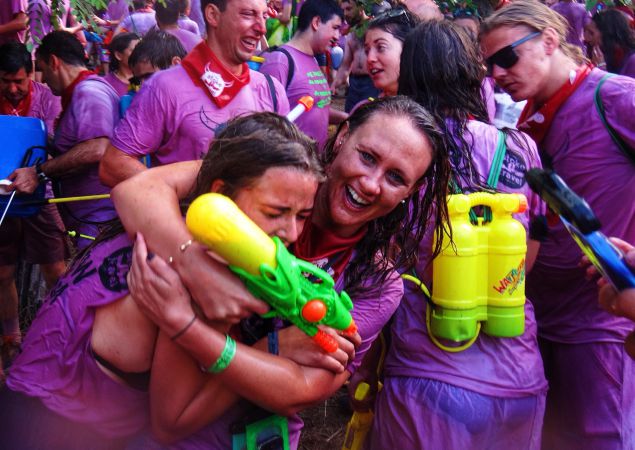 Waking up at sunrise in northern Spain, to head up into the hills of Haro to do battle in the vineyards (after a morning cerveza). Dressed in white, armed with a super soaker and a box of red wine, I arrived thinking I was going to do some damage.
This quickly dissipated as the locals came at us with buckets thrown over heads, pesticide sprayers covering us from the left, and water gun attacks from the right. Our whites now purple, we danced in the vineyards with the taste of famous La Rioja vino on our lips.
How have you changed/grown since working for your current company?
With Stoke Travel, I've had the opportunity to meet travelers from all corners of the globe, both within our offices, and on our trips. Working with great team, and meeting weirdos from all over, has helped me understand just how different, yet similar, we all are.
If you could go on any program that your company offers, which one would you choose and why?
I would grab myself a Stoke Passport.
That way, I can choose from over 20 festivals and trips of my liking, on dates that suit me, all with a guaranteed party.
I can go on Van Surfari in Spain and France, clank steins with locals in Munich, throw some more wine, water, or tomatoes in Spain, or work on my downward dog and dance moves in Ibiza.
What makes your company unique? When were you especially proud of your team?
Stoke Travel is pretty special because while we provide you with the epic memorable times, and everything all-inclusive, we don't tell you how to travel. You do you, boo.
Travel should be a unique experience, but with guaranteed good times and good people. Our team loves travel and this means that work never really feels like work.