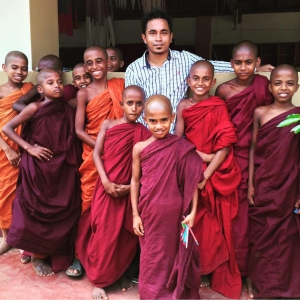 What is your favorite travel memory?
Volunteering in Ghana was one of my favorite travel highlights I have done so far in my life. I currently work as a the volunteer project country coordinator in Sri Lanka and I wanted to experience Africa as a volunteer in a childcare program. This trip helped me a lot in gaining various perspectives and understanding the real expectation of a volunteer who is travelling in another country.
At the same time, the trip helped me to return to Sri Lanka with a personal satisfaction as I felt I had given something back to the childcare project in Kumasi. This also allowed me to meet some wonderful people along the way too.
How have you changed/grown since working for your current company?
It was December 2012 when I first decided to start community development projects in Sri Lanka. I established the programs in June 2013 with the guidance of PMGY. The first group of nine volunteers arrived with an initial accommodation capacity for 11 volunteers who all engaged in 4 different projects.
Year by year the numbers of volunteers has increased and currently we have unlimited space and offer 22 projects across childcare, teaching, wildlife, medical and renovation. The present average number of volunteers we host annually is around 500. This has opened lots of jobs and boosted the economy for my village and I have also gained a lot of experiences through these years.
What is the best story you've heard from a return student?
I meet lots of students every year with various types of expectations. Some do the trip for personal satisfaction or to gain experience and professional improvements. Some people who did the teaching projects 4 years ago with no experience were very nervous and stressed -- and now they are working as teachers in schools in their home countries.
When I hear our volunteers' stories and how much the Sri Lanka teaching placement helped them create their present career paths -- I feel very honored.
Same with the stories of past medical elective students who are now finishing their later stages in universities.
If you could go on any program that your company offers, which one would you choose and why?
I'm looking forward to participating in childcare and teaching projects in Vietnam. I have heard great feedback about the set-up in Vietnam and it seems amazing to explore. Hopefully in 2017, I will volunteer in Vietnam with PMGY.
What makes your company unique? When were you especially proud of your team?
Both the UK and local team members are not just doing a job with PMGY. Plan My Gap Year has become our lifestyle. Therefore, we believe in what we do to ensure all our participants have their best possible experience. Our projects entail the true and responsible volunteering concepts instead of commercial activities. I think our reviews prove this well.
What do you believe to be the biggest factor in being a successful company?
Value for the money and accurate pre-departure information to match in-country delivery equals the best experience for the participant.
We believe that we have a good reputation and the strong recommendations we received from our participants via word of mouth is testament to this.