Sara Sayeg
Title
Student Services Coordinator
What is your favorite travel memory?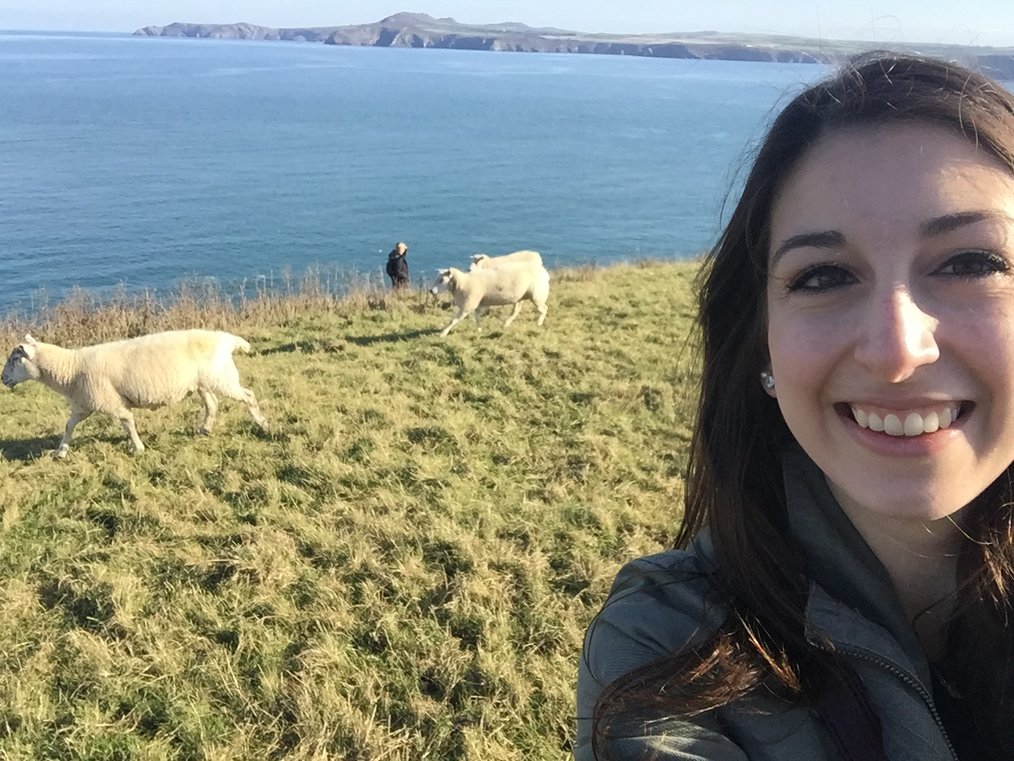 Having lived in London for the past few years I've had the chance to see some wonderful places around Europe but, thinking back, one of the most fun and unique travel experiences has actually been on Arcadia's Wales excursion (I promise this isn't a shameless plug!).
During this trip away in the beautiful Welsh countryside, we spent the weekend swimming, cliff-jumping, surfing, sea kayaking, and hiking! Then, in the evenings, we would come back to the lodge, heap our plates with mounds of amazing home-cooked food, and spend the rest of the night playing board games or roasting marshmallows by the campfire!
One of my favorite moments from this trip was our afternoon of surfing. Not only did I successfully stand on the board for a full 20 seconds (I'm basically a professional now), but we also spotted an adorable seal riding the wave alongside us!
What is the best story you've heard from a return student?
One of my colleagues was actually a first-year student through Arcadia and spent her Fall semester of freshman year on one of our program. After returning to the US, she decided she needed to return to London for another term.
She came back to study at City University for a full academic year, taking classes in Psychology and Sociology to work towards her degrees. But one year wasn't enough! Graduation and a European passport later, she is now settled in London, working for Arcadia and supporting students who were just like her. You can say she came full circle!
If you could go on any program that your institution offers, which one would you choose and why?
Besides studying in London (attempting not to sound biased), I would choose to study at Victoria University of Wellington in New Zealand.
I would choose this country since it's an area of the world that few people are able to visit in their lifetime, let alone for a full semester! I would also choose this university because of their Liberal Arts course offerings, including gender studies, film and creative writing - all of which I enjoy learning about!
Plus, directly enrolling into a university would give me the chance to become better integrated into the Kiwi culture and meet locals.
Lastly, it would be amazing to explore the beautiful scenery that I've been wanting to see with my own eyes since the Lord of the Rings films were released!
What makes your institution unique? When were you especially proud of your team?
What makes Arcadia unique is the dedication and enthusiasm the staff bring to each of their roles. We are always thinking of new and creative ways to give students opportunities to make the most of their time abroad.
Whether it's running a club or offering volunteering opportunities, these additional elements give us the chance to share our interests with students and introduce them to aspects of British culture they might not have experienced otherwise.
For this reason, I am very proud of the team I work with - each person truly goes above and beyond to support our students and to enhance their study abroad experience.
What does Arcadia do to make London a more affordable location for students?
Everyone hears that London is expensive, but it isn't until students get here that they realize how quickly their bank account starts depleting! Between booking travel plans and sorting out the necessities, it can be hard to stick to a budget, which is why we try to offer loads of free and cheap options for our students.
Whether it's a ticket to a West-End show, a walking tour, or entry to the Tower of London, our students are given plenty of ways to see London for free. And that's just what we offer during orientation!
As for excursions, each semester we put together a program of subsidized events, which include both day trips and weekends away in the UK and Europe. Arcadia pays towards the cost of these events, meaning we are able to offer them to students at the lowest possible price.
There are also plenty of free events that take place from The London Center, from 4th of July BBQs to staff-run clubs and societies, all of which Arcadia Students are welcome to join.