Tell us a little about Frontier's operations and your role in Costa Rica.
Elle: Frontier is playing a vital role in gathering and analysing scientific data to protect against the impacts of global warming and other environmental threats in a little known corner of rainforest paradise on the Osa Peninsula. This involves volunteers living on a camp located in this pristine ecosystem and participating in range of daily surveys.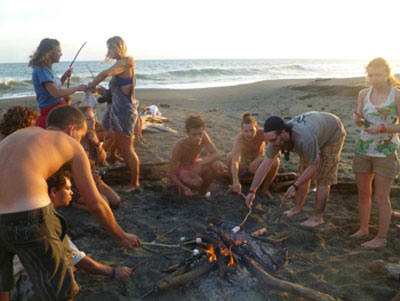 This could be going on turtle patrols to excavate nests, count hatchlings and conduct heath checks on turtles who are giving birth to monitoring primate behaviour in the forest to tracking the neotropical river otter along the beautiful waterways close to camp.
I am the Project Coordinator of the project which means that I look after the RAs, manage camp logistics and generally make sure everyone is having an enjoyable and productive time in Costa Rica.
How did you get involved in the volunteer industry?
Elle: I have always been interested in conservation and animal welfare and this position allows me to combine my love of travel and living in new places with this environmental interest. I worked in a completely different industry before this and I felt the time was right to become involved with something I was passionate about.
What makes Frontier unique?
Elle: For me it is the people that make Frontier unique. I have been lucky enough to live and work with some of the most passionate, interesting and fantastic people I have ever met and I have learnt so much from them. The atmosphere in camp is great and I shall miss everyone so much when I leave.
What are you most proud of having achieved while working in the field for Frontier?
Elle: Personally I am thrilled about being able to showcase all of our hard work and achievements using social media (we are on Facebook and Twitter and I blog regularly). I am also in awe of the science being carried out by the volunteers. For example, there is hardly any information in the public domain about the neotropical river otter and so almost everything we are doing here is ground breaking analysis which is vital for the otter's future. I'm very proud to be a part of that.
What are you most looking forward to in the future in regards to field operations in Costa Rica?
Elle: I'm really looking forward to taking volunteers to our satellite camp in the coming months. We are lucky enough to have access to land nearby which is criss-crossed with trails that are rarely walked by anyone which means animal sightings galore. We spent a weekend there in mid-March and three of the volunteers were lucky enough to spot a tapir. That was incredible and I can't wait to explore the area again.