Tell us a little about ITA and your role at the school.
Cassie: I'm an academic advisor with ITA and I speak with prospective students from all over the globe about their aspirations to teach English abroad. Packing up your bags and moving to a new country is a big step that requires a lot of planning. I help students figure out what countries might offer them the best opportunities and I assist them with drawing up a realistic timeline for certification and interviewing for teaching jobs, so that they can achieve their goals of living and teaching overseas. Every prospective TEFL student has their own questions. I answer questions ranging from 'will my students be adults or children?' or 'where will I live when I teach abroad?' to 'which countries will have the best waves to surf?' and 'can I bring my cat overseas?'!
How did you get involved in the education/TEFL field?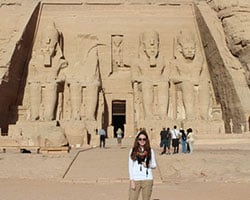 Cassie: I taught abroad myself, just a few years ago, in Seoul, South Korea. It was my first experience living abroad and it absolutely changed my life. I taught, traveled, and met great people from all walks of life, including many English teachers, who became some of my best friends.
I taught English to elementary and middle school students at a private language school and I still get emails from my old students to this day, which is incredibly rewarding! Since then, I have traveled to countries far and wide and every time I'm never anything less than humbled by the people I meet, places I see, and memories I've made. I've been advising at ITA for going on 2 years now and it's always a great feeling to hear from ITA graduates who are living their international dreams!
What makes ITA unique?
Cassie: Here at ITA, we are an international family; a community of travelers, teachers, and explorers looking to help others enjoy a similar experience. All of us who work at ITA have lived abroad, taught abroad, or worked abroad to some extent. We offer the best TEFL certification and training possible, not only so our graduates can qualify for great jobs and have a great experience abroad, but because the students they teach deserve the best education possible as well. We do everything we can so that ITA grads enjoy their teaching abroad experience just as much as we did!
In your experience, what characteristics make for a good international teacher?
Cassie: If you're a native English speaker that loves to travel, work with diverse groups of people, and enjoy learning about new customs and cultures, you'll be a great international teacher. ITA will provide you with the TEFL certification and job-search assistance you need to be successful. It's also important to be open minded and ready for adventure. You're going to meet a lot of new people and see a lot of new places that perhaps you've only seen in textbooks or travel magazines (just this year I touched the pyramids at Giza... and couldn't believe it!).